On Friday 8 July Ritsumeikan Asia Pacific University (APU) played host to the Ritsumeikan Symphony Concert. A night of brilliant classical and modern musicianship rivalled by nothing less than leading philharmonic orchestras amazed the1200 patrons in attendance. The concert was held in commemoration of APU's 5th inaugural anniversary and the Ritsumeikan University Symphony Orchestra's 50th anniversary. The concert proceedings continued the next day with the APU Ritsumeikan Concert in Kamegawa taking place at the Taiyo no Ie Welfare Centre.
The concert commenced to the powerful strains of Dvořāk's Symphony No.9 in E minor (From the New World). Renowned conductor Mr.NAKAHASHI Kentarozaemon led the orchestra with a skilled and steady hand full of the resplendence that has earned him a place as assistant conductor in the prestigious Tokyo Symphony Orchestra.
For the next piece a smaller but equally effective portion of the orchestra were utilised for all three movements of Beethoven's Piano Concerto No.3 in C minor. Indeed, one could be forgiven for thinking that they were in attendance at an orchestral concert at the Sydney Opera House as APU student Mr. NOMURA Keisuke on piano dazzled the audience with his creativeness on this well-explored work.
The second half of the concert fused the modern with the classical as Mr. ASANO Taiki (APU) took to the stage on the alto saxophone to perform Glazunov's Concerto in E flat for saxophone and string orchestra. No doubt even the most hardened purists of classical music gave way to the gentle sway and honey-sweet sounds produced by Mr. ASANO. With a vibrant style that belied the fact that he only started playing the saxophone when he was in high school, Mr. ASANO prepared the audience for what would be a rousing finale.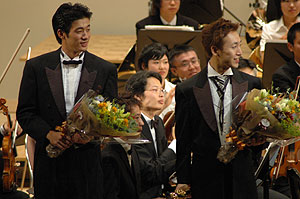 For the audience, the highlight of the concert that no doubt shone the brightest was APU graduate student Mr. FUNAKI Kaitu'u I Pangai as tenor. Prior to the concert Mr. FUNAKI expressed his concern that the decision to sing without the use of a microphone might result in the orchestra drowning out his voice. Such fears were immediately allayed as Mr. FUNAKI broke into the tender opening verse of Amazing Grace. Mr. FUNAKI capped off the night with a stirring rendition of TAKI Rentaro's Kojo no Tsuki and crowd-pleasing Oh Happy Day, for which gospel circle Soul Life joined him on stage. Singing in a booming voice that reverberated around the insides of Millennium Hall, Mr. FUNAKI reached the high notes of an operatic tenor and the deep gospel tones of a soul singer that made one wonder if he might more suited to a starring role on Broadway.
The performers were sent off with a lengthy standing ovation that seemed to beckon the orchestra to keep on performing as much as it did to thank them for a memorable night.
For details please refer to Campus Life at the following
link
.
Click
here
for the Photo Album.