講演・シンポジウム|来学者
Jan 25, 2010
On Wednesday, January 20, 2010, APU welcomed Former Japanese Prime Minister and current APU Confucius Advisor Mr. MURAYAMA Tomiichi to hold a discussion with APU students. With students almost spilling into the corridors, the lively discussion and exchange of opinions with Mr. MURAYAMA touched on Japanese war responsibilities, recognition of history, and the future relationship Japan will have with the outside world based on his 1995 announcement "On the occasion of the 50th anniversary of the war's end".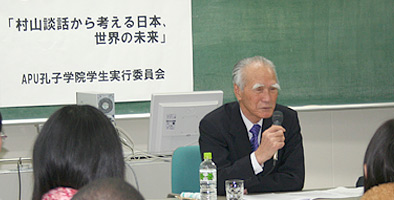 Mr. MURAYAMA began the discussion with a reflection on his time as Prime Minister and spoke of how at the time when treaties were being signed between Japan, Korea and China, the governments were aware that they would be putting an end to security issues, but that the issues of compensation for individuals such as military comfort women and slave-labor weren't being dealt with, "Japan needs to clarify its understanding of its wartime history and clearly express the future direction Japan should take in the years to come". The discussion also looked at the details leading up to his visit to APU. He also commented on differing recognition of history between Japan, China and Korea, "It is difficult to all agree on the same version of history, but we need to need to understand each other's reasons behind what differs and why".

The students raised a number of questions which Mr. MURAYAMA answered such as his opinion on official visits to Yasukuni Shrine by the Prime Minister, Japan-China-Korea relations, and the importance of an evaluation of history by politicians. Mr. MURAYAMA commented on Japan-China-Korea relations, "Japan and China have interacted and exchanged with each other throughout history. The human and economic interaction between us is ever-increasing and, for the benefit of Japanese development, this relationship cannot be ignored". He then gave his own opinion on politicians' interpretation of history, "Politicians should take responsibility for their interpretation of history for if the interpretation is wrong, so too will the policy".

Mr. MURAYAMA then gave our APU students a word of encouragement and received a rousing applause from the packed theatre as he made his way from the room, "For our own nation's prosperity, we need our neighbors to be prosperous. Please consider things from a wide perspective and work towards our goal of an Asia where everyone helps each other".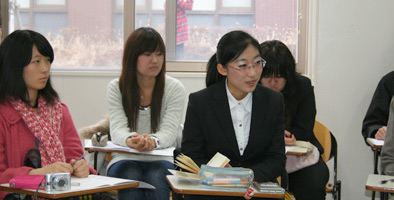 This discussion was made possible by the efforts of nine students who planned and managed the event including APU Confucius Institute Student Activities Committee members, TSUJI Takeya (APS2, Japan) and ONISHI Kenji (APS2, Japan). Working up to this event, these planning staff held a number of study sessions from before the summer vacation and began building up background knowledge on Japan and the world at the time for these discussions with Mr. MURAYAMA.

Mr. TSUJI commented on the event, "We were children when Mr. MURAYAMA made his statement 'on the occasion of the 50th anniversary of the war's end' and our group members held a number of study groups to ensure we all had sound understanding of this announcement. Amongst debates both for and against the statement, we all agreed to hear straight from the man himself, Mr. MURAYAMA, and agreed on the importance of providing this opportunity to our students. It was then that we decided to hold this event. We are thankful to Mr. MURAYAMA for offering to come to speak to us before the discussion and also to the many students who have shown such an interest in this discussion event".

Profile:Mr. MURAYAMA Tomiichi
In 1995, the then-Prime Minister of Japan Mr. MURAYAMA Tomiichi made a statement to mark the 50th anniversary of the conclusion of WW2 which addressed historical issues surrounding Japan's wartime history and its treatment of colonized areas. This statement is officially called the Statement by Prime Minister Tomiichi MURAYAMA "On the occasion of the 50th anniversary of the war's end".
The Statement can be viewed in full in Japanese, English, Chinese and Korean at the Ministry of Foreign Affairs official HP
http://www.mofa.go.jp/announce/press/pm/murayama/9508.html