On Saturday, January 23, 2010, the APU Student Circle Samulunori Team (Shinmyoung) held their Annual Performance at the APU Millennium Hall in collaboration with the APU Wind Orchestra Club and the APU chorus circle MUSY TONE.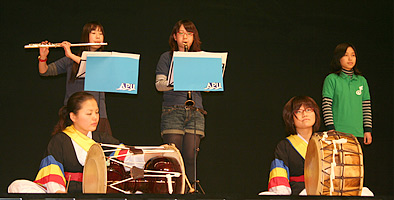 The hall was full with students and members of the local community who came along to enjoy the show featuring a number of performances which combined Korean traditional drums, choir, the wind instruments, and more. Now in its 6th year, the innovative and creative display proved a big hit with the crowd who were impressed with the professional and well-orchestrated show. In addition to the musical performance, the crowd was also treated to a brief history behind the traditional Korean drums.

Shinmyoung circle member, WOO Min Sik (APS2, Korea) commented on the performance and his aspirations for the future, "everyone in the Shinmyoung club would like to thank the audience for coming to see you show and we wish you all a happy new year. This year we aim to practice even harder and deliver an even better performance next time so please come along!" Furthermore, audience member, Christine Maria KOSTERS (APM, Germany) gave her impressions, "This was the first time for me to see a live Korean Drum performance. It was very interesting and unique, and I am very glad that I came along."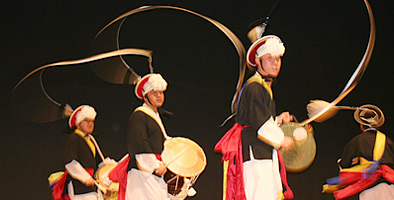 Set up in 2002, Shinmyoung currently has 20 members participating in performances both on and off campus. In addition, Shinmyoung has also been actively participating in a number of competitions such as the "11th Yeosu-si, Korea Jin Nam Music Contest" held in Yeosu-si Korea, in 2009 at which they were awarded a Special Prize.

Please click here for more details

* Samulunori: "Samul" meaning "four of" and "nori" meaning "play", Samulunori "the playing of four" is a term used to describe the ensemble performances which use four of Korea's traditional musical instruments.
Reporter, Student Press Assistant (SPA): Virgi Agita Sari (APM3, Indonesia)