On the evening of Friday, January 15, 2010, the Taiwanese Culture Week Grand Performance was held at the APU Millennium Hall. Over 700 spectators came along to see the dazzling show which marked the end of the fall semester Multicultural Weeks.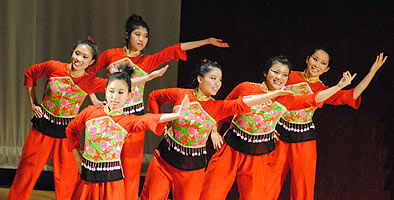 The program began with a contemporary fashion show that featured bright and vivid colors signifying the passion of the indigenous people of Taiwan as well as to represent the western influence on their cultures. Against a backdrop of the Taipei skyline, including Taipei 101 – the 101-storey skyscraper in downtown Taipei – and based on the story of a young wedding couple, the colourful images and stage-show then featured a song and dance performance of the many native, traditional and modern weddings that are commonly observed in Taiwan. A video entitled "Life after Marriage" was shown which showed the audience a glimpse into Taiwan's wedding culture.

Audience member, HAKIMOV Djahangir (APM3, Uzbekistan), gave his expressions of the show, "It was truly innovative and very impressive; my appreciation goes out to all those involved in Taiwanese Culture Week."




Looking back on the hurdles overcome in the planning of the event, Taiwan Culture Week representative WU Michael (APM3, Australia) said, "Due to the weather, we had few rehearsals on campus. We were also fixing up the stage props until the very last minute. I am especially proud and thankful to the committee members and all those involved in Taiwan Week for all their hard work. It was because of them that we were able to overcome the circumstances and create such a wonderful show."

Ninety seven countries and regions are represented at APU and every semester Multicultural Weeks are held to showcase many of these country/region's language and culture through a range of events planned by the student body.

*Multicultural Week is sponsored by the Nakajima Foundation.
Reporter, Student Press Assistant (SPA): Joshi Ratala Dinesh Prasad (APS3, Nepal)