On Wednesday, January 27, 2010, the AY2009 Fall Semester Information SA & LA Conferral Ceremony was held to honor 10 Information Systems Assistants (SA) and 8 Library Assistants (LA) who are slated to graduate this semester.



SAs are student staff that provide troubleshooting support for problems in the on-campus computer facilities, while LAs are student staff who help enhance the study experience for library users.

Media Resource Center Director and APS Associate Professor PISHVA Davar began the ceremony with a few words of encouragement: "I hope that you will use the experience you have gained as SAs and LAs to overcome any obstacles you may face in the careers that lie ahead of you." Afterwards, he presented each student with a completion certificate. Each student made a brief speech about their time as SAs and LAs.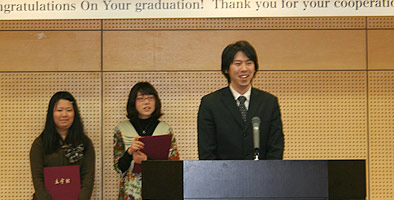 SA Dimyati, Afiati Arsy Rahmani (APM4, Indonesia) reflected on his experiences, "My work as an SA was like preparation for the real world. I received a wide range of requests from faculty, staff and students, and it was very rewarding to able to solve their problems." EDWARD, Edo (GSM, Indonesia) remarked, "Working as an SA improved my communications skills and allowed me to learn about working in Japanese society."

LA HAYASHIDA Erika (APS4, Japan) commented, "By meeting and working with many library users, LAs, and staff members, I feel like I have grown personally." Another LA, KAWABATA Yayoi (APS4, Japan), provided a few words of encouragement to the younger LAs, "Being able to work as an LA as part of my 4 years at university was very rewarding. I hope that the younger LAs make the library easier to use for users and staff members alike."

In addition to the graduating SAs and LAs, several SAs and LAs from the lower grade levels attended to honor the efforts of their older compatriots whose legacy they will continue.

In addition to SAs and LAs, APU employs Teaching Assistants (TAs) to help with classroom duties and Student Press Assistants (SPA) in an effort to contribute to extracurricular student development and create employment opportunities on campus.