On Tuesday, January 26, 2010, Director-General Ms. ZHANG Xiuqin and Deputy Director-General YU JI HAI of the Department of International Cooperation and Exchanges in the Ministry of Education of the People's Republic of China visited APU with a staff entourage. The officials enjoyed a meeting with APU President and Director of the Confucius Institute, KORENAGA Shun, APU Vice President YAKUSHIJI Kimio and Deputy-Director of the Confucius Institute, NISHIKAWA Koji.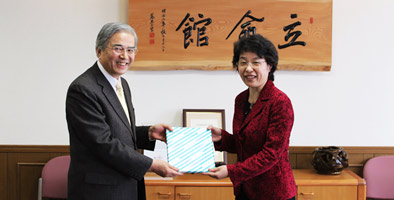 The Ministry of Education is a government body equivalent to Japan's MEXT, and the Department of International Cooperation and Exchanges is responsible for international cooperation and exchange, including policies to attract exchange students to China. The delegation visited APU to conduct a survey pertaining to the Japanese government's plan to boost the numbers of exchange students in Japan to 300,000 (the Global 30 Project) and exchanged opinions on the current nature of education at APU and the future of international developments with China and Asia. During the discussion, Director-General YU praised APU for its achievement in international student recruitment.

After the meeting, the entourage visited the APU Confucius Institute and met with Chinese students who proceeded to serve as guides for a tour of the library and student club activities. They also observed a Chinese language class.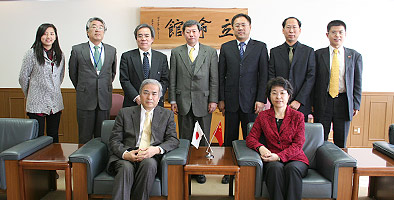 APU Confucius Institute Student Activities Committee member WEI Ruoxu (APM3, China), who accompanied the delegation, remarked, "It was an invaluable experience to meet the officials from the Department that supervises and supports Chinese exchange students like me. I was impressed by how they listened so keenly to our guided tour and gave our campus high marks."

APU's ties with China run deep. The first Confucius Institute in Kyushu was opened here and it proactively provides opportunities for students and local citizens to study Chinese language and culture.