講演・シンポジウム|来学者
Feb 10, 2010
On Wednesday, January 20, 2010, the Ritsumeikan Center for Asia Pacific Studies (RCAPS*) invited Animation International Ltd, Hong Kong Executive, Mr. KONDO Tsutomu to deliver a seminar under the title of "the Current State of the Animation Character Business in Asia". Approximately eighty students and faculty members came along to hear about Mr. KONDO's fifteen years of experience in the anime industry.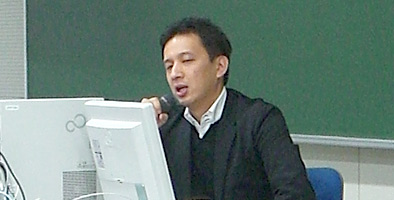 Mr. KONDO first gave an introduction of his company, Animation International – a major marketer and distributer of Japanese anime characters such as Doraemon, Dragon Ball, and Sailor Moon throughout Asia.

The lecture then focused on the anime character industry, market trends, key players, piracy issues and the kind of human resources sought after by the industry. Mr. KONDO emphasized how the Japanese anime character business has grown vastly over the last fifteen years thanks to wise promotion strategies such as the production of anime theme songs sung by local popular musicians such as Hong-Kong's Kelly CHEN.

When questioned on the current state of the anime industry, Mr. KONDO responded, "The anime-business is made up of the three stages of Creation, Promotion and Harvesting. Of these stages, the Harvesting stage - the merchandising of characters following the anime production - is especially important".

Audience member ZHOU Yao (APM2, China) commented on the seminar, "I was already interested in the anime industry and this seminar has helped me gain a deeper insight into how Japanese anime have expanded so successfully throughout the world."

This seminar was made possible through an exchange agreement reached between the Nerima Animation Conference and the Oita Research Institute in August 2009 with the aim of making Oita Prefecture a centre for the Japanese anime industry and its expansion into Asia. With its large number of international students from the Asia-region and in-depth business and management courses, APU was approached to host this seminar and hopes to contribute further to this cooperative relationship.

*RCAPS was established in July 1996 with a mission to promote and foster research into the multifaceted developments and challenges that face the Asia Pacific region in the 21st Century. RCAPS seminars are held regularly at which lecturers from both on and off-campus are invited to share research findings in the field of Asia Pacific Studies.
Reporter, Student Press Assistant (SPA): NGUYEN Phu Thuy Duong (APM2, Vietnam)