教育プログラム|学生生活|講演・シンポジウム
Feb 15, 2010
On Sunday, January 24, 2010, the "Beppu Hot Spring Renaissance Program Citizens' College Program Commemorative Graduation Symposium – student power flying high in regional society" was held at the Beppu Central Community Center primarily by the "Tourism and Hospitality Institute" – one of APU's cross-college integrative programs.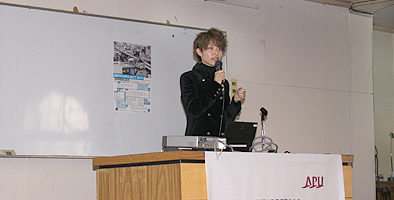 This symposium presented the results of the Hot Spring Renaissance Program initiatives which came to a conclusion in March this year after nearly two and a half years. The Hot Spring Renaissance Program was an urban development educational program involving APU students and members of the local community working together for the promotion of the Beppu tourism sector.
The Hot Spring Renaissance Program was adopted by the Ministry of Education's Contemporary Education Needs Initiative Support Program (Contemporary GP**) in the field of "Contribution to Regional Revitalization (Local Areas)" as an "educational program making a contribution to society through student efforts"

The Symposium welcomed Yufuin City Council member, Ms. OBAYASHI Kaya delivered a keynote speech during which she talked about working on the front lines of tourism and town development based on her own experiences and said, "Regional developer's feelings towards the region will spur regional development".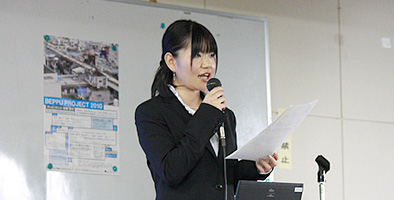 In the later half of the symposium, THP students delivered their research findings. IKEBE Yuka (APM4, Japan) analyzed the relative effects of advertising methods used for the "Mixed Bathing World" art festival held by BEPPU PROJECT (NPO)*** in spring last year, and found that "word of mouth" had a large effect on regional development. Next, IKENAGA Shiori (APS4, Japan) introduced her analysis results of a survey of one hundred Beppu City tourists, their impressions of Beppu's charm points and what things they look for in a tourist destination.

Based on his experiences and observations as a volunteer involved with the "Usuki-Takeyoi" – a bamboo lantern festival in Usuki City – SATO Kouji (APM4, Japan) followed the process of how this Bamboo lantern festival became part of regional tradition and showed the way tourism development should take place. Based on an analysis of guesthouse users, MAEKAWA Masateru (APM3, Japan) introduced the findings and future prospects for development of the Holiday House Project developed built out of a disused residential property in Uchinari, Beppu City in collaboration with the seminar of Visiting Professor HATADA Nobuyuki.

The symposium was also attended by five members of the program's external evaluation committee, including APU Professor Emeriti FUKAMICHI Haruo and Oita University Professor Emeriti OGATA Masakatsu, who evaluated the nearly two and a half year program.

At the conclusion of the symposium, volunteer guide of Beppu City tourist attractions, NAKAMURA Keichi (APS3, Japan) lead a min-walk tour of the Beppu City streets from JR Beppu Station to Takagawara Onsen.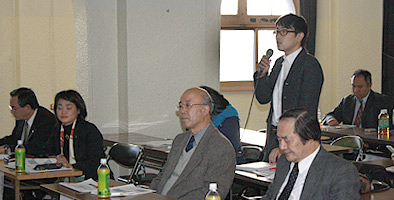 * APU has established five educational research Institutes that transverse the boundaries between the College of Asia Pacific Studies (APS) and College of International Management (APM) in order to respond to the issues facing the complex and diverse Asia-Pacific Region swiftly and strategically. With a view towards continued studies at the graduate level, these Institutes constitute the Crossover Advanced Program. One of the five institutes of the Crossover Advanced Program, the Health, Environment and Life Science Institute, aims to produce graduates who can work on preserving natural ecosystems and maintaining safe and healthy human habitats.

**Contemporary GP
This government program aims to spread outstanding and highly regarded initiatives to other universities. Since APU reached its intake capacity in 2003, it has had eleven projects adopted.

***BEPPU PROJECT (NPO)
Based in Beppu City, this group aims to contribute to the development of the arts through holding contemporary art events and culture/art revival programs for the local community. A number of members are former APU students.