教育プログラム|学生生活
Mar 11, 2010
From Tuesday, February 2 to Sunday 28, 2010, APU faculty staff and five students visited Palawan State University (The Philippines) and conducted research as a part of the "Environmental Opinion Leaders for the Asia Pacific Program (ENVOL*). The fieldtrip was led by APU Vice President Prof. COOPER Malcom, Dean of International Cooperation & Research Prof. SANGA-NGOIE Kazadi, and APS Assist. Prof. KOBAYASHI Shoko. APU ENVOL students KUDABADU Jayawickrama (GSAM, Sri Lanka), MORISAKI Ikuko (GSAM, Japan), Waran JOHN (GSAM, Sudan), SINGH Abhijit (GSAM, India) JAYAGODA Dimithri (GSAM, Sri Lanka) took part in this fieldtrip.



During the fieldtrip, ENVOL students began to gather the data needed for their Master's thesis and visited a number of sites around the City of Puerto Princesa in the island Province of Palawan including the Puerto Princesa government offices, the Puerto Princesa Subterranean River National Park – home of the world's longest navigable underground river – a rubber plantation, and a mangrove nursery.
The group also attended joint-workshops with the Palawan Council for Sustainable Development to gain a better understanding of the kind of environmental and developmental issues currently facing the island. They took part in a mangrove paddle-boat tour to learn about the various species of mangroves, the diversity of wildlife and the importance of mangroves in the sustainable management of coastal areas.

One of the ENVOL students, Abhijit SINGH, spoke of the experience, "The trip was a great learning experience and we were able to see many aspects of the tropical ecological environment. The real-life situation is very different to what we study in the classroom. We also learned how to make critical observations and how to collect data required for our research. I hope to put the information I have gathered to good use in my future studies".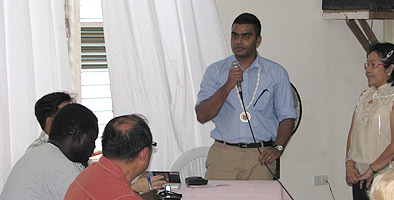 The students will visit Palawan State University in the future and work in collaboration with Palawan State University faculty to conduct further research into the ecology of the tropical island and the environmental issues it faces.

*Environmental Opinion Leaders for the Asia Pacific Program (ENVOL*)
Coordinated by Professor SANGA-NGOIE Kazadi, this program aims to develop in students of the Graduate School of Asia Pacific Studies Major in International Cooperation Policy course, high level skills in scientific observation and analysis of the state of (or the changes in) the global biosphere; skills in modeling and simulating the flow of materials and energy in the biosphere for sustainable conservation, development and management; and skills in writing and presenting environmental research results on international platforms. ENVOL has been selected into the MEXT "Good Practice" program.

Please click here for more information on 'APU's selection for the MEXT 'Program for Enhancing Systematic Education in Graduate Schools' .
https://www.apu.ac.jp/home/news/article/?storyid=1371
Reporter, Student Press Assistant (SPA): Dimithri Dveinda Jayagoda (GSAM 1, Sri Lanka)