On Thursday, March 4, 2010, a public symposium on "Meteorological Disasters and Adaptable Society in the Asia-Pacific Region" was held by APU and the Kyoto University Graduate School of Science. Taking place as part of the "The 3rd International Workshop on Prevention and Mitigation of Meteorological Disasters in Southeast Asia", this symposium was open to the public and invited a number of Japanese and international experts to discuss climate change research, its effects and outlook for the future.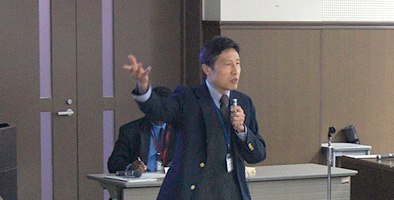 Symposium Chair and APU Dean of International Cooperation & Research, Professor SANGA-NGOIE Kazadi began the proceedings with an opening remark, "Weather knows no geo-political boundaries – it effects us all indiscriminately".

Up first was Professor YODEN Shigeo of the Kyoto University Graduate School of Science, Division of Earth and Planetary Sciences, who gave an informative insight into the collection, analysis and application of meteorological data to predict meteorological phenomenon and mitigate the damages to ever-increasing economic development and urbanization.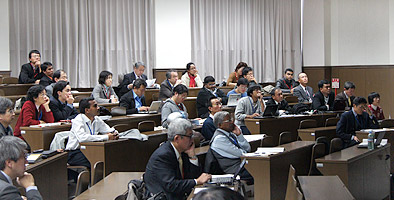 Under the theme of "Socio-economic implications on meteorological disasters and possible measures to mitigate their impacts", APM Professor TSUKADA Shunso then looked at the reasons behind the failure of the recent COP 15 conference, "before COP 15 I had faith that global warming could be slowed down, but now I'm not so sure. What was found was that the current framework for discussion at COP doesn't work. I am now very pessimistic about any results emerging from COP16 which is scheduled to take place at the end of this year."

This was followed by presentations by Associate Professor KOH Tieh-Yong of the Nanyang Technological University (Singapore) School of Physical & Mathematical Sciences, and Professor Toshitaka TSUDA of the Kyoto University Research Institute for Sustainable Humanosphere. The symposium concluded with remarks from representatives of the Japan Science and Technology Agency (JST), the Japan International Cooperation Agency (JICA) and Professor SANGA-NGOIE.

The symposium was well received by the many students, faculty staff and researchers who came along to get an insight into current research and developments in the field of extreme weather, meteorological disasters, global warming, and much more.