For two and a half weeks, twenty five members of the APU premier student organization, PRENGO, took part in the 13th Aid Trip to the Kingdom of Thailand from the 8th – 25th of February, 2010. Twice every year in February and September, PRENGO travels to regional areas of Thailand and gets involved in volunteer activities under their philosophy of "the creation of more educational opportunities and improvement of the educational environment by the people of the region".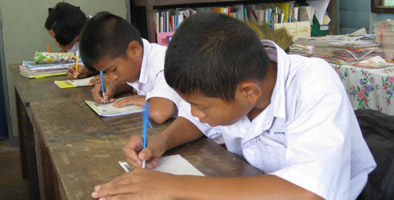 This trip centered on volunteer activities in two areas: the Mahad Region and at the Thapkradaht Elementary School where aid activities began in September 2009.

During their time at Thapkradaht Elementary School, the volunteer party gave Japanese lessons at the teachers' requests, held a exchange event with the local community to gather information and promote interaction, visited the local agricultural college to learn about growing vegetables and turned a corner of the school garden into a vegetable patch to make the most out of the school lunch budget.




Meanwhile in the Mahad Region, the group centered their efforts on the Ban Khao Huai Mahad School and engaged in a range of activities such as opening up new foster homes, held 100-Plot Math lessons and held meetings with members of the local community involved in One Village, One Product initiatives. On February 20, Vice Principal of Ritsumeikan Elementary School and advocate of the 100-Plot Math method, KAGEYAMA Hideo delivered a maths lesson to the eager children. As part of their annual project of presenting the graduating students with hand-made graduation albums, the members of PRENGO were treated to a surprise by the students who handed them all messages of thanks for their appreciation.

Looking back on the volunteer project, PRENGO Representative KIKUCHI Aiko (APS2, Japan) said, "All of us have developed and grown through these activities in Thailand and we are very thankful to everyone who has supported and cooperated with us. These aid projects have made me realize once again that the driving force behind our activities is the spirit of reaching out a helping hand to those in need. In the future I hope to continue to believe in people's power and possibility and get actively involved on the front-line, not just a spectator from the back rows. As the leader of PRENGO I will work to develop our initiatives further".

Using the One Village, One Product model that originated in Oita Prefecture, PRENGO has previously engaged in economic aid programs such as the manufacture and sale of Thai pants with the aim of improving household finances and raising peoples' incomes. They also acted on a proposal from KAGEYAMA Hideo, the Vice Principal of Ritsumeikan Elementary School, to introduce 100-plot math drills into school educational programs. PRENGO will continue to focus its efforts on supporting sustainable development in Thailand.

The PRENGO Website http://www.prengo.jp/