On Thursday, March 11, 2010, two graduating students of the APS PhD. Program, Dr. ALEMU Aye Mengistu (Ethiopia) and Dr. Cindy Lyn BANYAI (USA) delivered a summary of their research findings and dissertations.
Dean of the Graduate School of Asia Pacific Studies, Professor EADES gave a few opening remarks, "It's great to see these research findings being presented here today. APU is developing strong niche and producing some excellent results in the field of comparative studies of the Asia-Pacific region with other parts of the world".

The first presenter, Dr. ALEMU spoke in detail of his research under the theme of "Determinants and Impacts of Vertical and Horizontal Export Diversification on Growth: Empirical Evidence from East Asia and Sub-Saharan Africa".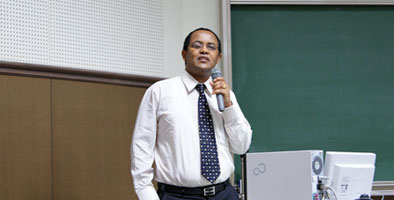 Dr. ALEMU described his research and analysis of data from 1965 to 2004 comparing East-Asian and African export structures and income levels etc, to uncover the reasons why the economies of East-Asia have prospered while Africa has remained relatively stagnant. Based on his findings, Dr. ALEMU suggested that, "export diversification in particular has played a vital role in promoting economic growth in East-Asia", and that "East-Asia's success can also be attributed to their huge investment in human capital through education".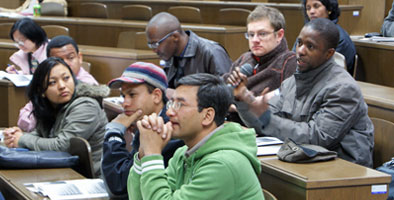 Dr. BANYAI then presented her research findings under the theme of "Community Capacity and Governance – New Approaches to Development and Evaluation".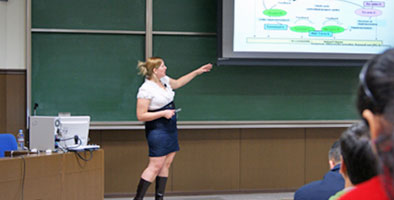 During her presentation, Dr. BANYAI gave a detailed look into her findings based on field work into community capacity in both Oita Prefecture and in The Philippines and her efforts to "contribute to the discussion on rural development and poverty reduction, and the promotion of community capacity development and evaluation strategies".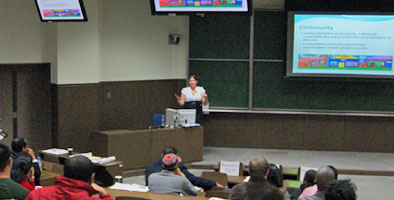 In addition to Dr. BANYAI and Dr. ALEMU, a third APU student, Dr. CHHEANG Vannarith (Cambodia), completed his PhD studies in AY2009 and is the current Executive Director of the Cambodian Institute for Cooperation and Peace in Phnom Penh, Cambodia. Let's look forward to great things in the future from our APU PhD students.