On Saturday, March 27, 2010, APU Vice-President and Dean of International Cooperation & Research, Professor SANGA-NGOIE Kazadi delivered a keynote speech under the title of "The truth behind COP15: Forests and Global Warming" at the "Hita Symposium for the Protection of Planet Earth". This symposium was held in Hita City under the patronage of the NPO Japan Association for the Protection of Japanese Cedar and Hinoki Trees.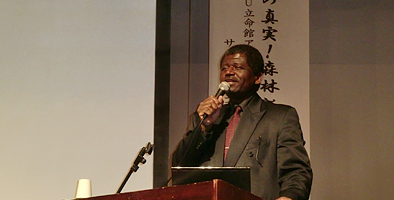 During the lecture, Professor SANGA introduced examples to the audience of sustainable forestry, tree planting, and forests utilization around the world based on the findings during his recent research trips to large scale tree plantations in Indonesia (tropical rainforests), Australian (semi-arid regions), and Israel (desert areas). The point of his message was clear: "The real value of Hita's forests goes beyond the money earned by the forestry industry from dead wood. Living forests do play a very important role in alleviating global warming and in ensuring natural habitats for land biodiversity, rich and stable soils, plentiful underground water reserves and abundant river flows. It is time we start evaluating all these benefits in our socio-economic models and pave the way to revitalizing local economy through sustainable use of forests as precious biosphere resources. Concerted effort is needed for a paradigm shift in our conception of forests management and conservation so that we can create new added value to them."

Prior to Professor SANGA's lecture, presentations were delivered by local primary school students and local farmers and businessmen, providing them with a valuable chance to share their thoughts and experiences on the local ecosystems. The event was a great opportunity for people of all ages to reconsider the role of forests in the local and global environment.

Professor SANGA was invited to deliver this lecture by the Japan Association for the Protection of Japanese Cedar and Hinoki Trees, Planning Office Director, Mr. YOKOO, who attended another lecture by Professor SANGA last December at the "2nd Environment Seminar" co-hosted by APU and the Oita Bank Co., Ltd.

Hita City is renowned throughout Japan for its "Hita Cedar" and boasts a large-scale woodwork and forestry industry. APU and Hita City concluded a Friendship Exchange Agreement in July 2008 and are working to strengthen their cooperative relationship. Based on this relationship, Professor SANGA is planning to get involved in further environmental research on Hita forests and forestry in collaboration with the Japan Association for the Protection of Japanese Cedar and Hinoki Trees, and to work towards developing new parameters for integrated forest evaluation aiming at their sustainable use, management and conservation, and the revitalization of Hita's main industry.