On Saturday, April 3, 2010, APU student TON Diep Nhat Trang (APM4, Vietnam) was crowned Miss Beppu and made her debut appearance at the Beppu Hatto Onsen Thanksgiving Festival. Miss Beppu is entrusted with the task of promoting Beppu throughout Japan and overseas. The Miss Beppu contest began after WW2 and Ms. TON is the first foreign national to be crowned with the title.
Ms. TON was crowned Miss Qui Nhon as a high school student in her home-town of Qui Nhon in Vietnam, and, in addition to the support of her friends, was motivated to enter the Miss Beppu contest to make the local Vietnamese population more well known throughout Beppu.

Ms. TON commented, "I feel a great sense of pride and responsibility at being crowned the first foreign Miss Beppu. I have come to love Beppu City through interacting with members of the local community and learning the City's history and attractions. It has also been a fun way to learn the Japanese language. I was so happy to see so many local Japanese people lining the streets in support of me during the Hatto Onsen Festival. In the coming months, I will work to promote Beppu City and think about how to apply these experiences to my future career."

Ms. TON heard about APU from her friends and APU graduates. She was attracted to APU after hearing of its international environment and opportunities to make global networks of friends through interaction and exchange with fellow students of diverse cultural and linguistic backgrounds. Although being unable to speak any Japanese when she first entered APU, she has made rapid improvements through her Japanese classes, making Japanese friends, and actively participating in exchange programs with local elementary and junior high school students.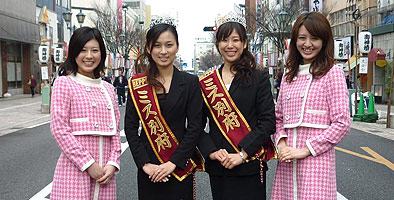 Ms. TON (second from the left)