教育プログラム|学生生活|連携事業
Apr 20, 2010

On Wednesday, April 7, 2010, a ceremony was held to welcome eight students onto the Global Business Leaders Development Program (GBLP*). The GBLP program aims to support exchange students and is backed by the Ministry of Education, Culture, Sports, Science and Technology (MEXT) and the Ministry of Economy, Trade and Industry (METI). These eight students constitute the 6th batch of APU students on the program.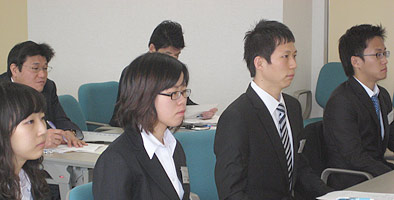 GBLP Promotion Committee Chairman and APU Vice-President, HIRATA Junichi, and Project Leader and Dean of the College of International Management, Professor YOKOYAMA Kenji, delivered an opening address. Vice-President HIRATA offered the students a few words of encouragement, "The GBLP aims to develop outstanding overseas students who intend to work in Japanese industries in the future. The falling workforce population due to our aging population is a major issue facing Japan. Therefore the GBLP Program has a very important role to play. This program will not be easy, but remember that you can gain so much from it. Hard work will open up a world of possibilities so please do your very best."

The eight new program participants then each introduced themselves in Japanese and spoke of their aspirations for the future, "I hope to create a bridge linking Japan with my home country", "I want to get a job in an overseas company", and "my dream is to be employed at a world famous Japanese industry", were just some of the comments made.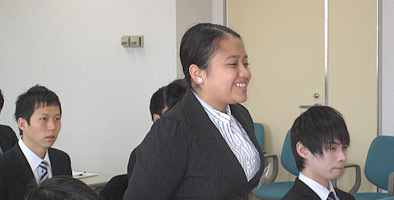 The GBLP aims to develop future leaders who can contribute to Japan's economic development while leading the way in the Asia-Pacific. In addition to regular APU classes, program students spend their 3rd and 4th years taking GBLP specific subjects such as international business strategy, international trade, finance, and human resource management while also participating in special seminars and internships.

APU is working to further strengthen the GBLP program to ensure that these eight promising students enjoy an active future in Japanese industries.

*The Global Business Leaders Development Project (GBLP)
The GBLP began in 2007 after the APU proposal was adopted into the Career Development Program for Foreign Students from Asia. This program was commissioned by the Japanese Ministry of Economy, Trade and Industry, and the Ministry of Education, Culture, Sports, Science and Technology. Designed to strengthen the international competitiveness of Japanese businesses, this program accepts exceptional students with a strong desire to seek employment in Japanese businesses from throughout Asia and equip them with specialist business knowledge and business Japanese language skills. The program seeks to nurture global human resources with the ability to bridge Japanese business with the rest of the world.
Please click here for more details on the GBLP