"TO MAKE THE WORLD IN 100 YEARS PEACEFUL"
This summer, two APU student groups grappling with the problems our world faces, will be taking their messages to the people of world at the "Aichi World Exposition".
APU student group "The Committee of the World History Textbook Museum", aims to increase international understanding through exposure to history textbooks used around the world. Spotlight spoke to NIITA Naoko (APS 3rd year student), from The Committee of the World History Textbook Museum, to find out more.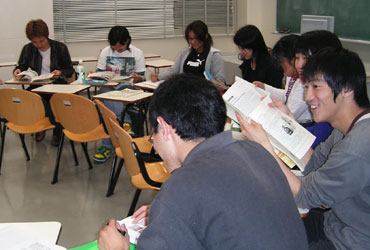 "We will be displaying The World History Textbook Museum at the Civic Pavilion at the Aichi World Expo from August 22-28th. We believe that the first step towards learning about others is education. We hope to show people the differences in ways of thinking from country to country, though the use of text books from around the world. Hopefully, seeing us working alongside international students will show people proof of how you can get on and understand each other despite differences in nationality.
We are currently in the process of translating history text books, focusing on textbooks relating to World War 2. In doing this, we have found ourselves facing the problem of how to deal with the many different descriptions and understandings of "history". We have come to realize that many things that we may have taken as a matter of course, may be viewed differently by people from other countries. If we could spread this message to even one more person, we would be happy.
In the future, we hope to be able to give people the opportunity not just to find out about differences in the way people of different countries think, but actually come together with international students for discussions, so as to understand more about each other. The idea for "TO MAKE THE WORLD IN 100 YEARS PEACEFUL" came from being at APU. We hope that on top of realising our differences, people can learn to relate to and understand each other better."
The World History Textbook Museum exhibition will be on display at the Civic Gallery Pavilion, in the Seto Area from Monday August 22nd -Sunday August 28th. We look forward to seeing you there.
For information on The World History Textbook Museum exhibition (Japanese only) click here.
For Aichi World Expo Civic Pavilion event guide click here.