On Saturday 30 & Sunday 31 July, in sweltering heat the APU Cricket Team took to the field to defend their championship title of the West Japan Cricket Championships at the Tobe Sports Park in Matsuyama (Ehime Prefecture). The team put in an unpolished – yet nevertheless sufficient – performance on the first day of play to advance to the finals. However, due to adverse weather conditions on Sunday the finals were called off. What looked like a sure victory against our long-standing rivals from Fukuoka was not to be.
Last year the APU Cricket Team played its first official match at the West Japan Cricket Championships. Untrained, unprepared, undermanned, and not having any equipment proved to be no barrier as the team amazed all and sundry with their cricketing prowess. This year was set to be a similar story, albeit the team was both psychically prepared (the team had recently acquired its own cricket set) and mentally ready - a host of young students joined the veterans of the side to form a complete team.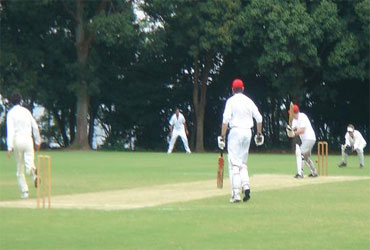 The first match held on Saturday 30 July was a low scoring affair that required the team to shake off the cobwebs – or else face an early trip home. The APU team elected to bowl first to take advantage of the fast pitch. Wickets fell in quick succession and it was immediately apparent that this year's line-up contained several as yet undiscovered star bowlers. The bowlers did what was required of them however, failure at times to find their line and length resulted in a plethora of extras and the opposition managed an undeserving run total of 97.
The APU batsmen took to the field in unrelenting 31 degree heat. However, this did little to dampen their enthusiasm. The team obviously not concerned by a lack of match practice launched a savage attack on the bowlers finding boundaries at seemingly impossible angles. The team reached their target of 98 runs with 3 wickets in hand, and a place in the finals.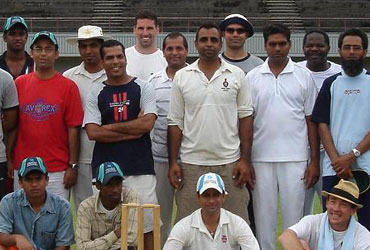 Unfortunately, the dark brooding clouds that had been threatening since late in the evening on Saturday proved to be the team's ultimate nemesis. On Sunday morning the International Cricket Council (ICC) staff deemed the grounds unsafe to play on and brought to a premature end the 2005 West Japan Cricket Championships. The initial despondency that overcame the team soon subsided as the captains of each team pledged their commitment to participate in the Championships again next year. As players from countries as diverse as Sri Lanka and New Zealand, Japan and England shook hands and wished each other a safe trip home one could safely say it was the bonds created by the love of cricket that provided the most lasting impression for everyone.