Ritsumeikan Asia Pacific University (APU) was made possible through the collaboration of Oita Prefecture, Beppu City and the Ritsumeikan Trust. Thanks to the generous support offered to the University by so many people and organisations, APU commemorated its 10th anniversary in April 2010.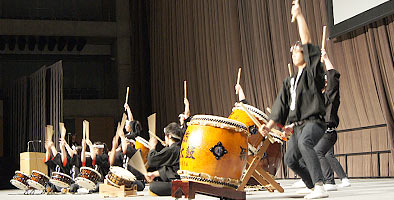 As a way of expressing our gratitude to the many people who have supported us over the years, APU will be holding a "Thanksgiving Gathering" on June 20. A number of APU student circles will be featured including top-class performances by the Japanese drum troupe Wadaiko "Raku" the Korean traditional music group "Shinmyoung", the Chinese musical performance group "Kagei", and other APU circles. There will also be speeches by the current APU President, the founding President, and student representatives. Furthermore, the audience will also be treated to a "World Fashion Show" featuring a range of colourful national traditional dresses and costumes from around the world.

The first 1000 people to arrive will be offered sweets from Korea and the Philippines while a luck dip will see 300 people in the audience win their packs of APU curry, 10th Anniversary pin-badges or APU ballpoint pens.
We hope to see you there!


APU 10th Anniversary "Thanksgiving Gathering":

Time/date: Sunday, June 20, 2010: 10:30 - 12:00 (doors open at 10:00)
Venue: B-Con Plaza ((12-1 Yamanote, Beppu City)
(Approximately 15 min. walk from JR Beppu Station/ 5 min. bus ride)
Entry: Free
Program outline:
Appreciation speech from the President
Speech by founding APU President
Speech from student representatives
Performances by APU students
Wadaiko "Raku" (Japanese drum troupe)
"Yosshakoi" (Japanese festival-style dance troupe)
Samulunori Team "Shinmyoung" (Traditional Korean musical group)
"Kagei" Chinese musical group (Introducing Chinese traditional culture)
World Fashion Show
Featuring: China, India, Bangladesh, Malawi, Cameroon, Tanzania, Indonesia, Uzbekistan, Korea, Vietnam, Thailand, and many more!

*You do not need to pre-register your attendance. Please just show up on the day.