学生生活|講演・シンポジウム|来学者
Jun 25, 2010

On Wednesday, June 16th, 2010 APU welcomed Ms. TANIGUCHI Yoshiko from the Oita Desk of the Japan International Cooperation Agency (JICA) to give a risk management seminar to student groups planning to hold overseas expeditions. 28 students from 12 APU clubs including PRENGO and APU Habitat attended.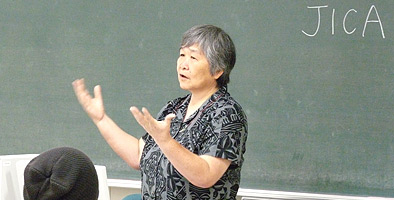 Risk management seminars are held every year with the twofold aim of raising student awareness about risk management and having groups conduct simulations of emergency situations in order to plan preventative measures before departure.

Drawing on her volunteer experience with JICA and the Japan Overseas Volunteer Corps (JOVC) in 8 countries, including Ghana and Kiribati, Ms. TANIGUCHI used real examples to discuss in detail what students should do before they leave Japan, what measures they should take to avoid getting involved in accidents and how to respond in the off chance that they find themselves in an emergency.

Ms. TANIGUCHI remarked, "Before you depart, it is important to collect information on crime and transportation in the host country and to study how that country's values differ from those of Japan." Participating students listened intently to Ms. TANIGUCHI's lecture and took notes.

After the lecture, the APU Health Clinic gave a talk on vaccinations and CreoHuman discussed overseas accident insurance, giving students a full explanation of the problems they might face when abroad.

No country in the world can be considered 100% safe, so each and every individual must recognize the potential risks of their actions. This seminar proved to be an invaluable experience for students to learn about and plan for potential risks when traveling overseas and to acquire the know-how required to ensure their increased safety.
Reporter, Student Press Assistant (SPA): HOURAI Yuki (APS2, Japan)