On Wednesday, November 3, 2010, the 6th Undergraduate Seminar Conference was held at APU. Undergraduate students representing the College of Asia Pacific Studies and College of International Management presented their research findings. Presentations were given by students representing 17 different seminar classes.



Now in its sixth year, the seminar conference aims to improve students' academic awareness and promote cross-college and inter-research group exchange. Held as an opportunity to introduce APU undergraduate research and increase 1st and 2nd year students' awareness of the research seminar system, the event was well received by a large audience including members of the local community.

One of the presenters, KARIMOV Jasurbek (APM4, Uzbekistan), delivered a presentation under the theme of "A Closer Look at the IMF" during which he put forward his view that people need to change their perception of the International Monetary Fund (IMF). He presented South Korea and Ethiopia as case studies to illustrate how he felt that the IMF is failing to meet its goals and forcing unattractive deals on aid receiving nations in times of economic trouble. He concluded by encouraging people to gain a deeper understanding of IMF cases occurring in different parts of the world.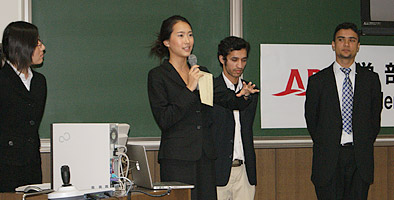 Event facilitator, APS Professor, TSUKADA Shunso, shared his impressions of the conference "This conference provided students with the opportunity to share their research findings and get peer and faculty feedback which I am sure will lead to quality research. Creating such opportunities is essential to promoting a strong research environment in an academic institution".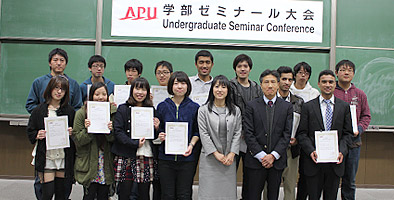 APU continues to encourage its students to pursue imaginative research opportunities and research-centered debate amongst students and faculty members.


Reporter, Student Press Assistant (SPA): Joshi Ratala Dinesh Prasad (APS4, Nepal)