From Monday, December 6th through Friday, December 10th (excluding the 8th), student groups cooperated with faculty and staff to hold a campaign aimed at improving the smoking etiquette of students, faculty and staff on campus. Student circle Students' Voice proposed the campaign, which coincided with the closing of the smoking shelter and installation of a new smoking area on December 1st, and it was the first collaborative effort among students, faculty and staff of its kind.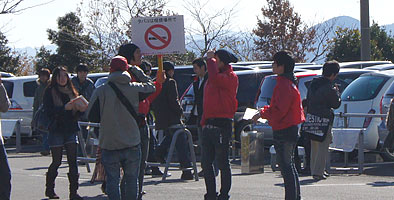 During the campaign period, Students' Voice led a group of students from 10 sports and academic organizations who, in tandem with faculty and staff, wore red windbreakers emblazoned with the words "No Smoking". They distributed pamphlets and picked up cigarette butts as they sought to improve smoking etiquette.

Students' Voice began focusing on the campus smoking issue in June 2009. They held a symposium to raise awareness and collect data on the current campus situation and have held discussions on the smoking problem with the university administration in an effort to make improvements. The smoking etiquette campaign was held as part of these activities.

FUJIWARA Takuya (APM2, Japan), a Students' Voice member and the coordinator of the campaign remarked, "We hope that this campaign not only leads to improved smoking etiquette, but also to better manners on campus in general. We will continue working with other students, faculty and staff to ensure that smoking takes place in the designated smoking area."

Since its founding in 2009, Students' Voice has undertaken a wide range of activities to improve the campus atmosphere with the ultimate aim of establishing a Student Government. They listen to their fellow students and work with the offices to make the APU campus a better place. We look forward to their future activities.
Reporter, Student Press Assistant (SPA):ARAKI Yukari(APS2, Japan)