On Thursday, January 20, 2011, the Malawi Minister of Finance, Hon. Ken E. Kandodo, the First Secretary at the Embassy of the Republic of Malawi to Japan, Roselynn C. Mapundula, and Director at the Malawi Ministry of Finance, Peter K. Simbani, visited APU and met with APU Vice-President HIRATA Junichi and four Malawian APU students.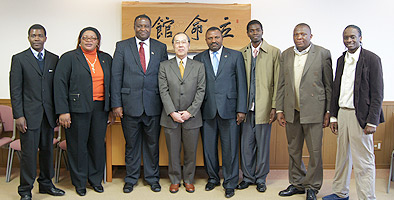 During their time on campus, the group enjoyed lunch with four Malawian students before viewing the "Under The Same Sky" photo exhibition featuring images taken by photojournalist Kei Sato in Zambia. This exhibition was organized by three APU students who accompanied Sato on a month-long volunteer and photography trip to Zambia.

The group then met with APU Vice-President HIRATA Junichi and discussed a range of topics including increasing the number of Malawian students studying at APU.

There are currently four students from Malawi at APU and the University continues to develop a strong relationship with the African nation. Over the past few years a number of Malawian dignitaries have visited our campus including the President of the Republic of Malawi, His Excellency Dr. Bingu Wa MUTHARIKA, and the Malawi Minister of Foreign Affairs, Hon. Joyce BANDA.