On Saturday, January 22, 2011, the APU Samulnori Team "Shinmyoung" held their 7th Annual Concert. Entitled "Samuru", the concert was held at the APU Millennium Hall and delivered a powerful performance of Korean traditional music to a large audience of students, faculty and members of the local community.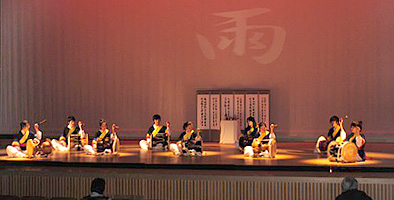 Using the "Kengari", "Bukk", "Jang-gu" and "Chin", Samulnori is a traditional form of music native to the farming villages and communities on the Korean Peninsula. In addition to Samulnori, the concert featured collaborative performances encompassing a range of genre including the APU Wind Orchestra and the "Wadaiko" Japanese drum troupe.

Shinmyoung representative, SHIMIZU Masako (APM2, Japan) commented on the performance, "In addition to our regular practice sessions, team members have put a great deal of daily practice into this performance. I have been involved in a range of performances since I took over as group representative 12 months ago and it's wonderful to be able to finish on a high note with the success of this great show".

Established in 2002, Shinmyoung is actively involved in a range of events both on and off campus. The group also won special recognition at the "11th Yeosu-si All Korea Jin Nam Music Contest" held in Korea in October, 2009. Let's look forward to more great achievements from Shinmyoung.