With over 6000 student from 85 countries and regions, the multicultural and multilingual environment that is the APU campus allows students the opportunity to gain global sensibilities through daily learning. But APU students don't just acquire advanced language proficiency and global sensibilities in the classroom, they hone their skills in a variety of extracurricular activities.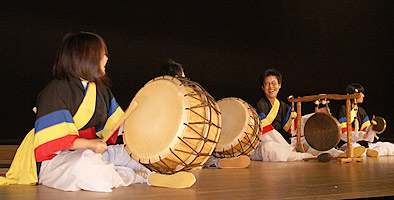 Shinmyong, the traditional Korean samulnori drum club, boasts several non-Korean members and actively performs its routines both on an off-campus. Members not only learn drumming techniques, they also deepen their understanding of Korean culture and history. The club also offers Korean students the opportunity to rediscover their own culture. As one student remarked, "I didn't realize how amazing my own country's culture was until I learned it from the outside looking in."

Several student groups also showcase foreign cultures and traditions during APU's regularly-held Multicultural Weeks*, and they are very popular with local residents. These include apuina, an Indonesian culture circle, and Explore Vietnam, a Vietnamese culture circle.

Student circles that introduce foreign culture and traditions help promote intercultural understanding among both students and local residents.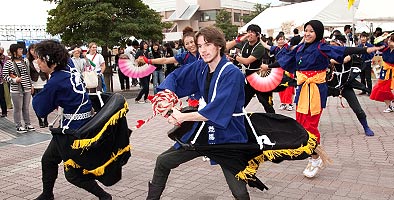 At the same time, many students join clubs because they are interested in Japanese culture and want to learn more about it. Tea ceremony, taiko drumming, Noh plays, arauma (a folk dance from Aomori Prefecture) and eisa (a folk dance from Okinawa Prefecture) are just some of the traditional Japanese arts that students can experience at APU, and students from around the globe are doing their part to keep these traditions alive.

There are also many clubs for students interested in social issues, and members use the long vacations to conduct volunteer work overseas. One such group is PRENGO, a student NGO that works in the Mahad region of Thailand providing educational support. Since its founding in 2003, PRENGO has volunteered continuously in Thailand. Starting with educational activities, it has since branched out into economic and capacity-building activities based on Oita's own One Village One Product movement. The group volunteered in the Mahad region again this year from February 7th until the 25th.




APU is home to approximately 150 student clubs that engage in self-directed activities spanning the spectrum from sports, culture and academics to social exchange and volunteering.

Visit the website below for an introduction to APU's student clubs and activities.
APU Student Web:For APU Students From APU Students