教育プログラム|学生生活
Mar 22, 2011
On Thursday, February 17, 2011, a presentation was delivered at the KUMON Institute of Education head office in Tokyo by six APU students who completed an internship-style workshop series held jointly by APU and KUMON.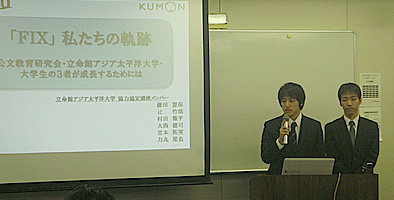 Begun in autumn 2010, a series of learning support workshops have been offered by APU making use of Kumon learning materials. These workshops have been managed by APU faculty and students and teaching staff from Kumon. Through getting involved in the management of these workshops, APU students are offered an internship-style learning experience through teaching and classroom management, interaction with students, implementing the "Kumon Way" teaching method, and classroom and practical training.

At the presentation session, participating students spoke about their experiences of the program and offered suggestions to ensure an even more successful event in the future including a proposal for event promotion. Over fifty Kumon employees attended the presentation and offered the students a range of practical advice and feedback.




Participating student, TSUJI Takeya (APS3, Japan), commented on the presentation: "Being able to present the results of our four months of training and exchange ideas with Kumon staff has been a wonderful learning experience. Their advice and support has given me confidence and prompted me to think more about my future".

APS Professor KONDO Yuichi was in charge of the workshop and commented on the students' development: "Through assisting other students to grow, our students have been able to develop a great deal and nurture valuable mentoring skills that will help them in the future. Through strict instruction, they have also learnt the skills they need to assimilate themselves into society".