The 2005 World Students' Tourism Summit hosted by Ritsumeikan Asia Pacific University, Oita Prefecture and Beppu City ended with a vibrant General Assembly on Sunday, November 13.
The 2005 World Students' Tourism Summit commenced with Exchange and Tourism Caravan Tours in Kyushu from Tuesday, November 8th and incorporated discussions that aimed to tackle the issue of tourism promotion and foster students that will be active in tourism in the future.
The Caravan Tours took place over three days and participants enjoyed multiple places of interest in Kyushu on one of four caravan routes either individually or in groups. With the aid of a free JR Kyushu train pass and bus pass, participants were able to travel freely to their places of interest.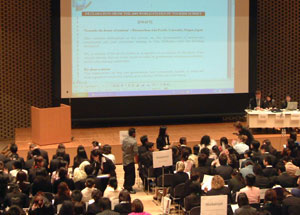 As most of the 130 Caravan Tour participants were from overseas a multi-lingual Call Centre was established to provide support and ensure that the delegates could get the most out of their stay in Kyushu. On Saturday, November 12 a Caravan Tour Presentation was held based on the delegate's experiences and impressions of the places visited. Some of the issues raised during the Presentation were the need for greater bilingual signs and information boards.
From Friday, November 11 till Sunday, November 13, a total of 290 students representing 78 universities from 21 countries and regions around the globe (including 151 domestic students representing 32 universities in Japan) participated in the 9 animated workshops related to tourism. On November 13, the last day of the summit, the students held a Final Declaration Assembly and compiled a final declaration based upon the results of the discussions held over the past three days, and presented it during the General Assembly.
In the Final Declaration it stated, "That stakeholders, through the promotion of tourism, will work to eliminate barriers among peoples of the world and foster effective international cooperation in terms of information exchange and intercultural understanding" and the sustainable development of tourism will help to provide jobs in local communities and encourage peace among nations.
The honorable Prime Minister of Japan attended the General Assembly and in his 10-minute impassioned speech said, "The summit was a terrific event to expand the viewpoints of the participants and deepen friendships." And he encouraged the delegates to "find the good and unique points of a country or a region and present them to as many people as possible."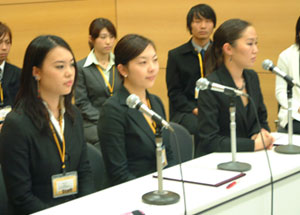 During the General Assembly, a keynote speech was given by Dr. Dirk Glaesser, Chief of Publications from the World Tourism Organization on "Risk Management in the International Tourism Network", and the Chairman of Pacific Asia Travel Association (PATA), Mr. ISHIKURE Nobutaka spoke on "Sustainable Tourism".
In the Closing Declaration, Ms. YOKOMOTO Kikumi, Chairperson of the Students Executive Committee said "She was convinced that the results of the summit would be useful to the future of the tourism industry" and brought the 6-days international conference to a close.
For details about "2005 World Students' Tourism Summit", please click here.
Link to "RS Web"(Public Relations Online Magazie) of Ritsumeikan University (Japanese Only)