On Thursday, March 31, 2011, the Spring Semester AP House (*1) Welcome Ceremony was held at the Millennium Hall. The Ceremony welcomed approximately 500 new residents from twenty-nine countries and regions, with sixty-four AP House Resident Assistants*2 (RA) also in attendance.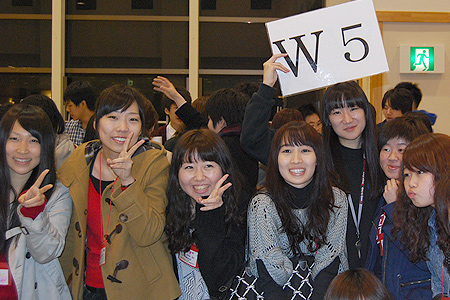 During the ceremony, the Dean of Student Affairs, Prof. KIM Chan Hoe offered a welcoming address to the new residents followed by KAJIO Takeshi (APM1, Japan) who spoke of his goals for his time at the House. A video made by and staring RAs was then shown introducing the rules and manners of life in AP House.

Following the ceremony, a Welcome Dinner was then held at the APU Cafeteria. During the dinner each RA briefly introduced themselves and lead the audience in a rendition of "We are the World" in support of the people affected by the recent massive earthquake and tsunami that struck northeast Japan. The student circle "Yossha-Koi" then performed a "Yossha-Koi" dance blending traditional Japanese performing arts and contemporary flavours.

*1: AP House
AP House is a student dormitory where international and domestic students live together on-campus. As part of the process of learning and adjusting to the Japanese way of life, international students spend their first year at AP House. However, AP House is more than just a play to stay – it is where students can learn to live with different people with a sense of community and harmony. Able to house 1310 people, the dormitory has 932 single rooms and 378 shared rooms.

*Resident assistants, or RAs, are domestic and international students who, in collaboration with the university, reside at AP House with the aim of supporting the dormitory students in their daily lives. The role of the RA is to provide assistance to international students who have come to Japan for the first time to help them adapt to the Japanese lifestyle, assist them in getting used to dormitory life and encourage interaction between House residents.