On Thursday, March 31, 2011, Ambassador Extraordinary and Plenipotentiary at the Embassy of the Republic of Bulgaria in Japan, H.E. Dr. Lubomir TODOROV visited APU with his wife, and Minister Plenipotentiary Ms. Vera Stefanova. The group met with APU President KORENAGA Shun and Pro Vice-President Edgar PORTER.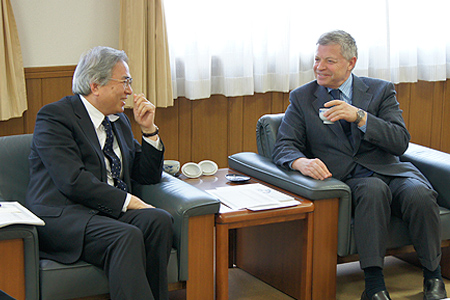 During their discussion, the group talked about the academic structure at APU and the University's unique characteristics. Ambassador TODOROV commented, "It's a wonderful idea to bring together students of so many different nationalities to one place. There is a strong interest towards Japan in Bulgaria and I am sure that our students can create a bridge between our two countries in the future". In Response, Pro Vice-President PORTER said, "Our Bulgarian students are a great asset to the university and they help our students to gain a better understanding of Eastern Europe".

Following their discussion, the Ambassador met one of the Bulgarian undergraduate students before enjoying a tour of the campus.

Ambassador TODOROV has taken over as a member of the Advisory Committee from his predecessor, the former ambassador, Blagovest SENDOV. APU currently has 3 students from the Republic of Bulgaria studying on campus and the University has enjoyed a constructive relationship over the years including a business human resource development project workshop for Bulgarian university lecturers which was held at APU with the support of JICA in May, 2007.