Since the University first opened, the APU Library has played a central role in the support of the learning, education and research of APU students and faculty. On Wednesday, April 30, 2011, the new and improved APU Library was re-launched with a new Learning Commons space.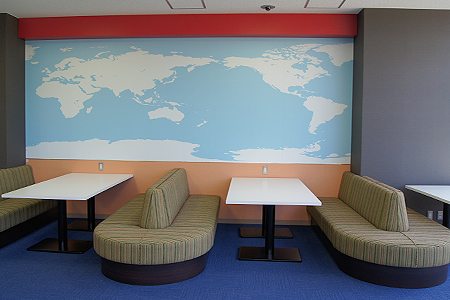 Emerging in universities throughout Europe and North America in the 1990's, the Learning Commons concept provides a place for students to work and study together. In addition to the traditional services offered by libraries including the storage and retrieval of books and other resource materials, the Learning Commons also offers users a comprehensive learning space in which they can discuss together, give presentations and even hold workshops. An increasing number of universities in Japan are adopting the Learning Commons concept as part of their library reforms.

Referred to as the "Active Floor", the 1st floor of the Learning Commons provides a place for students to engage in lively discussions and is divided into three areas: the "Group Learning Area" with movable tables and wireless LAN connections, the "Collaborative Learning Area" where students can present research findings, and the "Dialogue Area" where students can discuss their studies and receive support and develop their study skills.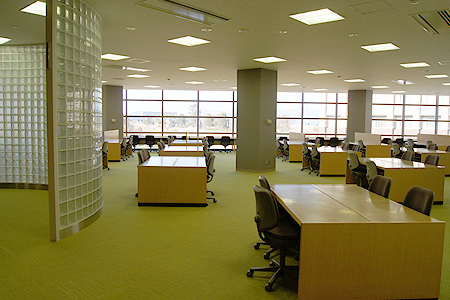 The 2nd floor, referred to as the "Silent Floor", has bookshelves, reading areas, space to use PCs and provides users with a suitable environment to engage in private study.

Since April 1, 2010, the APU Library has offered Oita Prefecture residents and high school students the opportunity to use the Library free of charge. Please be sure to check out the unique APU Library and its collection of resource materials, newspapers and of course books from around the Asia Pacific Region and further afield.

*Library users are required to register at the Service Counter of the 1st floor where they will be issued with a user-card (library card). Please refer here to the library homepage for more details: