On Saturday, April 9, 2011, the 'AY2011 Pica Pica Welcome Festival' was held by the Ritsumeikan Asia Pacific University 'Base Event Festival Planning Committee'. Welcoming new entrants to APU, the festival featured a range of colourful stalls and flea-markets in addition to Japanese 'wadaiko' drum performances and traditional dances by current APU students.

Organized and managed primarily by members of the 'Base Event Festival Planning Committee', the Pica Pica Festival is an annual event that aims to support new students adjust to their life here at APU and also promote greater interaction between current and new students.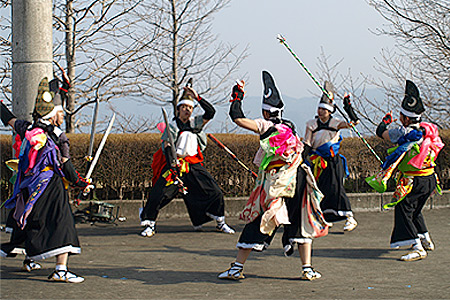 Reflecting the unique multicultural nature of APU, the flea market was dotted with accessories and goods from around the Asia Pacific region. The food stalls also featured APU students dressed in traditional costumes who prepared and served a range of dishes including Vietnamese, Taiwanese and Chinese. APU student circles including Wadaiko 'Raku', Arauma Chiyo, and the 'Shinmyoung' Samulnori Team gave a range of traditional performing arts displays from around the world in addition to exhibitions and displays by other circles.

Approximately 2000 students of all ages and nationalities gathered at APU for this event and enjoyed a day of interaction with fellow students.

There are currently approximately 150 student circles registered at APU including sports, culture, performing arts and academic groups active both on and off campus. The Base Event Festival Planning Committee is also getting preparations underway for the annual 'Tenku' Campus Festival scheduled for autumn later this year. We welcome the new students to APU and wish them all the best for an exciting campus life!