On Tuesday, August 30, 2011, the Consul General of India in Osaka, Mr. Vikas Swarup, visited APU and met with APU President KORENAGA Shun and Dean of the College of International Management, YOKOYAMA Kenji.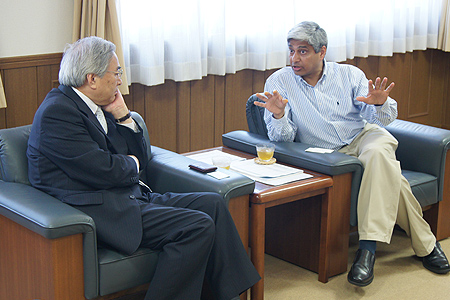 Mr. Swarup joined the Indian Foreign Service in 1986 and held posts in Ankara, Washington DC, Addis Ababa, London and Pretoria, before coming to Japan in August, 2009. Mr. Swarup is also the world renowned author of Q&A, a novel that was later made into the multi Academy Award winning movie, Slumdog Millionaire.

During their discussion, Mr. Vikas Swarup spoke of APU as "a world-class international university with an Asian flavor" and an important role to play as the focus of 21st century global society shifts increasingly towards the Asia Pacific region. He also expressed the need to make more people in India aware of APU and the opportunities it provides to study in Japan without any language barriers.

The group also discussed some of the differences and similarities between Japan and India. Professor YOKOYAMA then praised Indian students at APU for their outstanding Japanese language ability which Mr. Swarup attributed in part to the phonetic and grammatical similarities between Indian languages and Japanese – a language he is also attempting to master.

At the conclusion of the meeting, President KORENAGA presented Consul General with a Japanese furoshiki as a small token of his appreciation. Mr. Swarup then presented President KORENAGA with a necktie and a book about India.

APU currently has 16 students from India including 7 postgraduate students. We hope that this visit by Mr. Swarup will help to build further the promising relationship APU enjoys with India including a visit and special lecture by the former Consul General of India in Osaka, Mr Om Prakash in January 2008.