From Sunday, August 21 until Monday, September 5, 2011, twenty-five members of Habitat APU travelled to Udon-Thani, Thailand, and took part in a volunteer housing construction project as part of their ongoing work to build houses for people around the world without a place to call home.
Habitat APU is a student chapter and volunteer student circle affiliated with the Japanese branch of Habitat for Humanity International (HFHI*) NGO. Since 2007, Habitat APU has been involved in the "Global Village" housing construction support project and carrying out donation appeals in order to gather funds for their construction efforts. The students pay for their own travel expenses through part-time jobs.

Working with builders and the homeowners, the students helped to build the outer walls, lay the floor, and also with other aspects of the early stages of construction. The students also visited an orphanage for HIV-infected children, donated picture books that they had translated into Thai, and handmade books introducing the culture of Japan. APU students from Udon-Thani helped out as interpreters and APU Thai students helped to translate the picture books into Thai.

Global Village project representative, KAWASHIMA Risa (APM2, Japan), commented on the project, "Meeting and interacting with the homeowners left a lasting impression on me. Hearing about their harsh living conditions, their plans to open a shop when the house is completed, and how they compared having a house to 'heaven', made me keenly aware that the Global Village project does more than merely support the construction of houses – it is helping to makes peoples' dreams a reality. We hope to share our experiences with as many people as possible during our 'Charinko Purezen APU Ver.' charity bicycle tour beginning on September 16".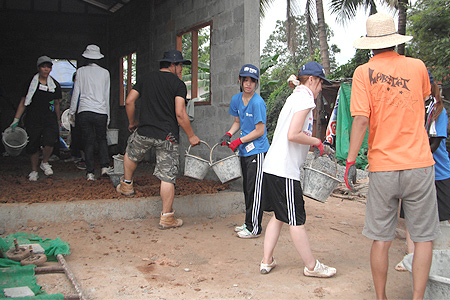 For thirteen days (Fri Sep 16 – Mon 28), Charinko Purezen participants will be cycling around Kyushu holding events at high schools and universities to raise awareness of global poverty and their circle's volunteer projects. During their journey, they also plan to carry out donation appeals (at the sites listed below) so please offer them your support!

Habitat APU 'Charinko Purezen APU Ver.' donation appeal schedule

Saturday, September 17. 12:00-16:00 in front of Tsuruya Dept. Store, Kumamoto City
Wednesday, September 21. 12:00-16:00 in front of Nishijin Praliva Dept. Store
Thursday, September 22. 13:30-15:00 Tenjin
Saturday, September 24 12:00-17:00 in front of JR Kurosaki Station
Sunday, September 25. 10:00-17:00 in front of JR Kokura Station
Monday, September 26. 10:00-14:00 in front of JR Kokura Station

*Habitat for Humanity International
Through this program, the home owner typically covers 30% of the construction costs and is involved in the building process. In this way, Habitat is able to make affordable housing possible. Furthermore, by ensuring that the owners are involved in the construction and repayments, Habitat also supports the new owner's financial independence. Funds repaid are also put towards paying for the next house project for someone in need. In this way, Habitat continues to work towards providing a safe place for people without a home. So far approximately 400,000 houses have been built or renovated by Habitat for Humanity.