On Tuesday, September 20, 2011, APU welcomed 437 new students at the 2011 Fall Entrance Ceremony held in the APU Millennium Hall.
This fall we welcome 312 undergraduate students from 46 countries and regions (24 domestic and 288 international), 76 graduate students (5 domestic and 71 international) and 49 short-term and exchange students (9 domestic and 40 international). (as of September 20, 2011)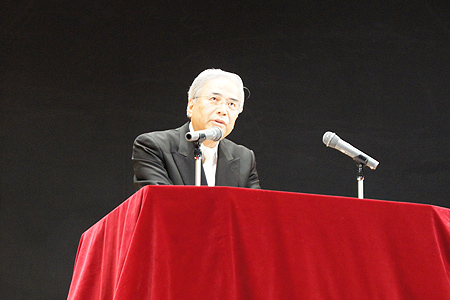 President KORENAGA Shun welcomed the new entrants and offered a few words, "The world is full of borders constructed by reference to race, nationality, class and many other factors. By transcending these borders and engaging frankly and openly with others, it is possible to achieve mutual understanding. This is true for both individuals and nations. Tension and conflict continue to occur around the world, but even in such troubled times, we must pursue dialogue and higher-order solutions to these problems. This is what APU's ideals of freedom, peace and humanity demand. Make the most of your time here to cultivate an international outlook, develop your skills in language and specialist fields, and unlock your future potential".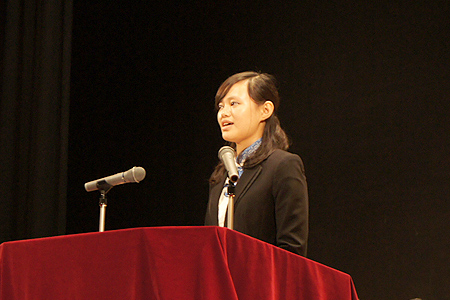 Following the Present's address, Mr. ISLAM MD Shariful (APS4, Bangladesh) welcomed the new students as representative of current APU students. This was followed by speeches by Ms. Li Chun (APS, China) and Mr. Javier SOLIZ (GSM, USA) on behalf of the new entrants.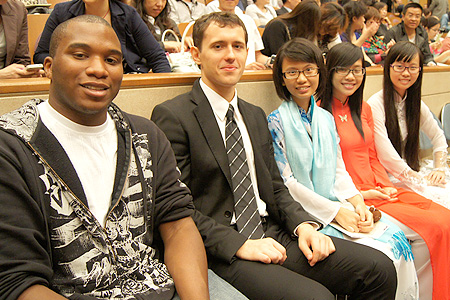 Ms. Li Chun said, "By coming to APU, we now have to be independent and live by our own efforts. We have to make choices which may directly influence our future. We have to take responsibility for our future lives and APU guides us to face this future. So find yourself and aim and make every effort to achieve it!"

Mr. Javier SOLIZ then greeted the audience, "Globalisation is now the norm and today the world runs on international teamwork. I hope we can all develop this teamwork here at APU. Our time here will be an opportunity to develop the flexibility and international understanding needed for the coming era of economic change".
As a finale to the Entrance Ceremony, current APU students introduced a number of student circles through short performances and gave their support to the new entrants as they begin their new life at APU.

The Entrance ceremony was also broadcast live on the internet via Ustream. Footage can be viewed here.
Ustream Channel: http://www.ustream.tv/channel/ritsumeikan-apu