From Saturday, August 20 until Tuesday, September 13, 2011, approximately forty members of the APU volunteer student circle, PRENGO, took part in the group's 16th trip to Thailand as part of their ongoing economic and educational support efforts. A number of APU Thai students, who had returned to Thailand during the summer break, also took part in the project.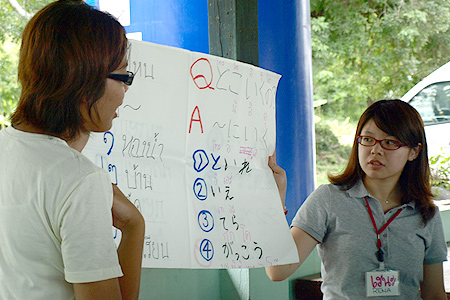 Every year since 2003, PRENGO has been organizing biannual educational volunteer programs to the Thai provinces of Mahad and Thapkradad under the philosophy of "improving the educational environment and creating opportunities for education through community led initiatives". Over the years, PRENGO has been involved in a range of projects including the manufacture and sales of Thai-style pants through an initiative modeled on the Oita-based One Village-One Product movement. Other projects include educational programs utilizing the "100-Plot Maths" method pioneered by Professor KAGEYAMA Hideo, the Vice Principal of Ritsumeikan Primary School.

This program offered many opportunities for participants to interact with members of the local community including home-stays with families manufacturing Thai-style pants, and the translation – with the assistance of Thai students – and donation of books written by Professor KAGEYAMA to local schools.

Head of the support project team, TAKAHASHI Takuma (APS2, Japan), spoke of his experiences on the program and his aspirations for the future, "Being able to meet and interact with the teaching staff in Thailand and stay with our host families was a great opportunity to develop and deepen our friendships with the locals. In the future, I hope that we can build even stronger relationships and continue this project with a sense of responsibility and understanding of the potential we have to influence peoples' lives".

Images of this trip will be on display during the annual Tenku Campus Festival coming up in October. Displays are also scheduled to be held in Oita City, Fukuoka City, and at the Ritsumeikan University BKC campus festival.

* One Village, One Product is a regional development initiative which began in 1980 throughout all of the municipalities of Oita Prefecture. Advocated in 1979 by the then Governor of Oita Prefecture HIRAMATSU Morihiko, the project attempts to promote regional development and invites each municipality to develop their own special product.