教育プログラム|学生生活
Oct 25, 2011
On Friday, September 23, until Sunday, September 25, 2011, three APU students took part in the Asia-Pacific Youth Science Exchange Forum in Okinawa and engaged in discussions with students from around the Asia Pacific region on the theme of "Coral reefs, island nations, and the future of Asia Pacific Coastal Communities in the 21st century".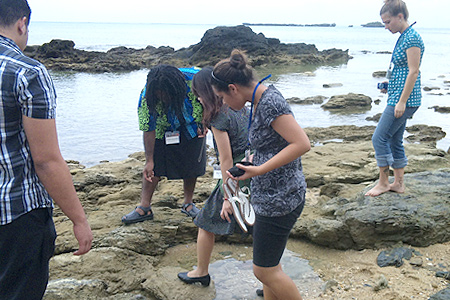 APU students Yvonne CHU (APS3, Hong Kong), IWASA Mao (APS1, Japan), and Pham Le Hong Phuc (APM4, Vietnam) took part in this event. Through these discussions, the participants worked towards identifying the environmental issues facing coastal regions and finding possible solutions from the young generation's perspective.

Over the course of the program, participants gave poster presentations and attended lectures by ecologists, reef biologists, and sustainable development experts. On day three, the participants broke up into groups with an expert advisor and engaged in further discussions under a specific theme such as pollution, over fishing, and climate change. At the end of the group discussions, each group then added their conclusions to a joint-resolution which was then presented to the program organizers.

Yvonne CHU (APS3, Hong Kong) commented on the program, "As an APS student, this was a great opportunity for me to raise my awareness of the environmental problems facing our region, in particular, coastal areas such as Hong Kong, my homeland. Meeting and discussing with so many students from around the Asia Pacific made me realize that similar problems are occurring across the world and that we must work together to solve them".

Hosted by the University of the Ryukyus and the Okinawa Institute of Science and Technology, the Asia-Pacific Youth Science Exchange Forum brought together 34 undergraduate students from 13 countries and regions (including Japan) around the Asia Pacific including Palau, Samoa and Papua New Guinea.