From Wednesday, September 7, until Tuesday, September 13, 2011, three APU traditional Japanese performing arts circles (Wadaiko 'Raku', Mai 'Raku' and Arauma Chiyo) came together for a joint performance in Indonesia.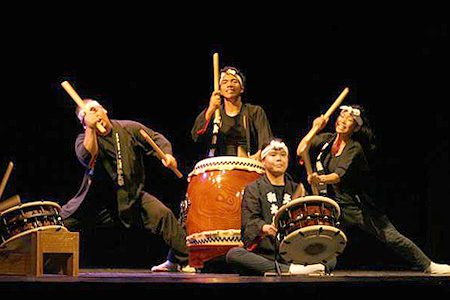 Following their performances in Taiwan (2007) and Indonesia (2008), this is the group's third overseas performance. Through these performances, the group aims to spread Japanese culture around the world and promote intercultural understanding. Entitled "Geiso ~Across Asia~ Indonesia Performance", the show featured 27 students including 9 international students.

The group performed at Yogyakarta Park and three universities in Jakarta, Depok and Tangerang. The audiences at each venue were enthralled with the powerful Japanese drums and colourful dances and costumes. Participating Indonesian students also performed their popular Indonesian Saman Dance and were well received by their fellow country men and women.

Throughout the program, the participants also introduced popular Japanese pastimes including origami and 'cat's cradle' and also gave local students the opportunity to try their hand at playing the Taiko drums. Visiting three universities and one high school, the program proved to be a great opportunity to interact with and share each others culture.

Mai 'Raku' member and Geiso group representative, AHMAD Tisya Andhin (AP3, Indonesia) commented on the trip, "Many young Indonesians associate Japan with anime, manga and other pop-culture items, and we wanted to teach them something about some of the great Japanese traditional performing arts. We encountered a number of challenges preparing for this event but we persevered and were able to work together and put together a great display".

APU traditional performing arts circles continue to prove popular with both domestic and international students, particularly among international students who have a strong interest in Japanese culture. Performing at both on and off campus events, APU performing arts groups are also well received by members of the local community.