教育プログラム|連携事業
Nov 30, 2011
On Thursday, November 24, 2011, a closing ceremony was held at the APU Convention Hall to mark the end of a training program for eight employees at Toho Titanium Co., Ltd. The ceremony was attended by the trainees, members of the APU executive, and representatives of the Toho Titanium human resources department.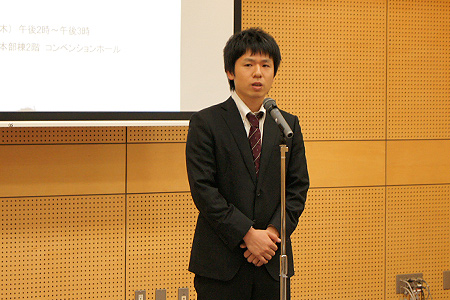 APU Vice-President HIRATA Junichi offered a few words before presenting each of the trainees with a certificate of completion, "Your time at APU has given you the opportunity to learn and experience campus life while communicating in English – an opportunity seldom available in Japan. I hope that you will make most of this experience and apply it to your workplace".

Each of the trainees reflected on their time at APU and said a few words. One of the trainees, Mr. INOUE Yosuke commented that "This experience has taught me that if we are proactive we can build friendships despite cultural differences. I hope to apply this experience to a range of aspects in my future career". Mr. FUJINO Yasuyuki commented that, "This was a great environment in which to study and I took part in many discussion and presentations during classes. I really enjoyed learning in this multicultural environment".

APU Liaison Director and coordinator of this training program, Professor TAKANO Kenji, offered his congratulations to the trainees before bringing the ceremony to a close, "Please apply these experiences to your career, be proactive, believe in yourself, and strive to achieve your very best".

APU continues to accept and provide adult educational opportunities to industry trainees at the undergraduate and graduate levels. In addition to Toho Titanium, APU has also accepted trainees from Sasebo Heavy Industries and Nippon Light Metal Co., Ltd.