教育プログラム|連携事業
Nov 30, 2011
On Friday, November 25, 2011, a training ceremony was held to mark the beginning of a training program for three SONY Corporation employees. This program is being held as part of APU's ongoing efforts to provide adult educational opportunities at the undergraduate and graduate levels for industry and business employees.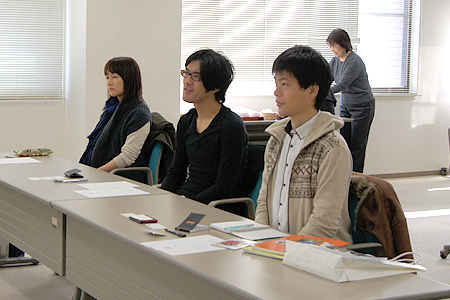 APU Vice-President, HIRATA Junichi gave the opening address and offered the trainees a few words of encouragement, "There will be times when you may feel at a loss in our multicultural environment, but please don't feel overwhelmed. Also, don't feel as though you must remember everything you are taught, rather make the most of the two short months you will spend with us to gain experiences that you can directly apply to your future career".

One of the new trainees, NAKAMURA Yuta shared his aims, "I expect to gain a lot out of my international management courses and hope that I will enjoy the English/Japanese dual language system. I look forward to communicating and making friends in English and spending an enjoyable time at AP House and on the APU campus".

The three trainees will be at APU for approximately 2 months until February 3. During their time with us they will be studying at the College of International Management and learning about international business strategy and theory. The program also aims to help the trainees develop a global outlook through living at AP House and experiencing student life in the campus's multicultural environment.
Reporter, Student Press Assistant (SPA): NAGATOMO Rie(APS2, Japan)