講演・シンポジウム|来学者
Dec 1, 2011
On Thursday, November 17, 2011, APU welcomed Mr. TANAKA Hiroshi, Corporate Officer at Hakuhodo, Inc., who delivered a Social Outreach Seminar under the title of "Creating from a Different Perspective - Perceptions from the People's Expert".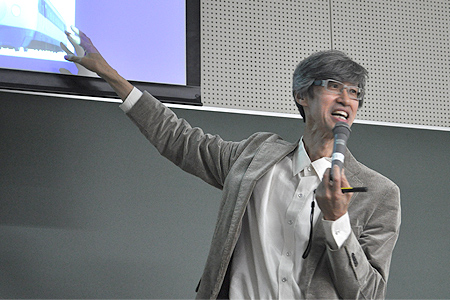 How do we develop the skills we need to take a fresh look at things? How do we apply these skills? How do we share information with our peers and the outside world? How important is it to view things from different peoples' standpoints? These were just some of the questions Mr. TANAKA addressed through an open debate with the student audience.

Mr. TANAKA raised the issue of how to prevent the memories of the recent Tohoku Earthquake and Tsunami disaster from fading into history. He then introduced the Onkalo Nuclear Waste Repository, currently under construction in Finland, before inviting the audience to consider questions such as "should we keep the wreckage of the disaster as a reminder for future generations, in a similar way as the nuclear dome in Hiroshima?" and "How can we inform people 100,000 years from now about the Onkalo Repository?". The group then discussed the issue of how to pass on information to future generations. Mr. TANAKA then moved to the topic of the importance of viewing things from other peoples' perspectives. As successful examples, he introduced products developed by small businesses to meet the individual needs of their consumers, and the convenient arrangement of seats on the bullet-train.

Towards the end of the lecture, Mr. TANAKA suggested that the ability to 'notice things' and 'see things from a different perspective' are necessary skills for people in the modern workforce. He encouraged the audience not only to develop these skills, but also to be proactive in putting them into practice.

Following the lecture, Mr. TANAKA opened the floor to questions from the 120-strong audience. Many questions were raised as the audience made the very most of this opportunity to learn more about the skills they will need when they enter the workforce.
Reporter, Student Press Assistant (SPA): HOURAI Yuki(APS3, Japan)