講演・シンポジウム|来学者
Dec 2, 2011
On Friday, November 25, 2011, the Ambassador Extraordinary and Plenipotentiary of the Republic of Tajikistan, Gulomjon J. BOBOZODA, visited APU. During his stay, the Ambassador met with APU Vice-President YAMAGAMI Susumu, APS Assoc. Dean, TSUKADA Shunso and APM Assoc. Dean, NATSUDA Kaoru. Following their meeting, the Ambassador then delivered a Special Lecture under the title of "Development Issue of Central Asian countries and regional cooperation".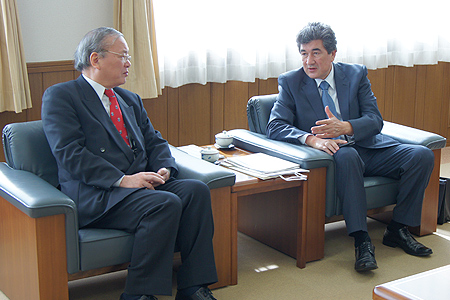 During his meeting with members of the APU Executive, Ambassador BOBOZODA thanked APU for "producing these opportunities for our students to study tourism, economics, finance and other subjects at your university. Students studying at APU will play a major role in the development of Tajikistan in the future".

In response, Vice-President YAMAGAMI said, "APU continues to provide a venue for students to learn about the world, different cultures, and different political and economic outlooks. We are very happy to be able to play an important role in the development of your country".

Following their discussion, Ambassador BOBOZODA delivered a special lecture to a group of students currently studying under the Japanese Grant Aid for Human Resource Development Scholarship (JDS) Program*. During the lecture, the Ambassador discussed with the students some of the development issues facing Tajikistan and other Central Asian nations. With a distinguished career as a government official, the Ambassador spoke on a wide range of subjects and provided an interesting and interactive lecture to the students and faculty in attendance. The Ambassador also opened the floor to questions and group discussions, and left a positive impact on the audience.

APU currently has seven students from the Republic of Tajikistan and APU continues to enjoy a strong relationship with the Central Asian republic including a joint workshop on trade logistics held by APU and the Government of Tajikistan in Dushanbe, the Tajikistan capital, in February 2010.

*JDS:
The Japanese Grant Aid for Human Resource Development Scholarship (JDS) is run by the Japan International Cooperation Association. APU continues to accept into the graduate school a number of promising and talented young public servants and entrepreneurs from around the world with the potential to become the leaders of the 21st Century.