On Wednesday, December 21, 2011, Mr. Eldorjon ELMURODOV, Consul, of the Embassy of the Republic of Uzbekistan visited APU and met with Vice-President HIRATA Junichi.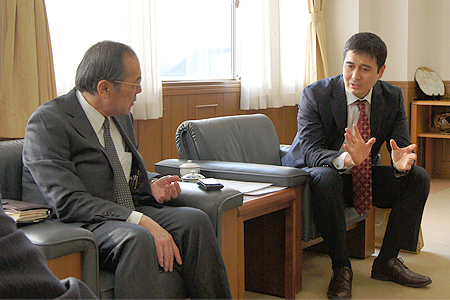 During the discussion, Consul ELMURODOV, a fluent speaker of Japanese and former exchange student at a Japanese graduate school, described how many government officials in Uzbekistan have studied in Japan and how studying in Japan continues to be very popular amongst Uzbekistani students. Consul ELMURODOV then met with a group of Uzbekistani students who took him on a tour around the APU campus. This was the Consul's first visit to APU and he appeared impressed with the multilingual and multicultural atmosphere.
There are currently 30 students from the Republic of Uzbekistan studying at APU including 29 undergraduates and 1 graduate student. Indeed, APU hosts the largest Uzbekistani student population of any Japanese university. In the future APU will continue to actively recruit international students from Uzbekistan and the Central Asian region.