On Sunday, December 18, 2011, the Global Final Round of the "Career Academy in Takeda" business competition was held at Takeda Pharmaceutical Company. Under the name of team name "Bazinga", four APU students took part in the competition and claimed second prize with an outstanding performance. The four students were, Ms. SKOLASTIKA (APM4, Indonesia), PHAM Le Hong Phuc (APM4, Vietnam), OVERNES Havard (APM4, Norway), and ZHANG Zhaowei (APM3, China).
Each four-member group in the competition took on the role of a business strategy team through a range of business simulations for an independent pharmaceuticals company. As managers, each team player was required to make the best decisions for the company regarding sales, research development, and business strategy, while also keeping an eye on the competition and market trends. After making decisions for a total of nine five-year plans, each team was judged and ranked on their profits and assets.

After making it through three preliminary rounds, APU joined other Japanese universities including Osaka University, Kyoto University, Hitotsubashi University, and Kyushu University. A total of 24 teams competed including invited teams from overseas including Seoul National University (Korea), Tsinghua University (China) and the National University of Singapore. Despite fierce competition from undergraduate and graduate students from globally renowned universities, the APU team was able to claim second prize thanks to their outstanding teamwork and business strategies.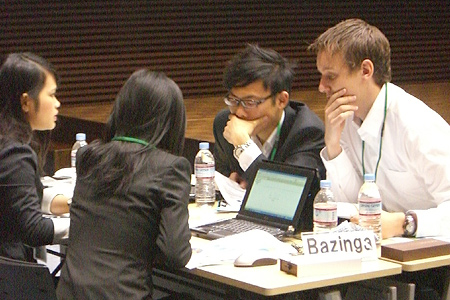 A social gathering was held following the conclusion of the competition during which the President & Chief Executive Officer of Takeda Pharmaceutical Company Limited, Mr. HASEGAWA Yasuchika, presented the winning teams with a certificate and memento. Mr. HASEGAWA visited APU in December 2010 as keynote speaker at the 15th Top Executive Lecture.

Team member, PHAM Le Hong Phuc (APM4, Vietnam) commented on the team's success. "This was a wonderful opportunity to experience what it's like to be part of company management. Being able to claim second place over other very strong teams is a testament to our good communication skills and the way we shared the responsibilities. These are exactly the attributes that have been nurtured by the multicultural APU environment".

Website for the Career Academy in Takeda: http://www.cat-g.jp/