From Monday, January 16 until Friday 27, 2012, fifteen administrative officers and producers from Nepal took part in a two-week training program at APU under the title of "Rural Development through Commercial Agriculture and the One Village, One Product Movement (OVOP)". This training program was commissioned by the Japan International Cooperation Agency (JICA).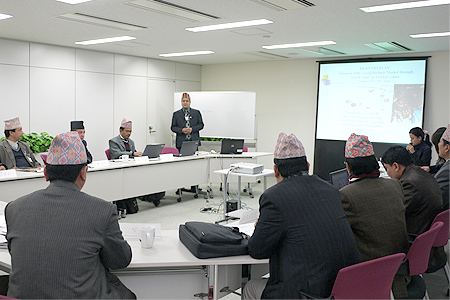 Since the introduction of the OVOP initiative to Nepal in 2006, a range of rural developments have taken place, particularly in the area of village revitalization and the regional expansion of production centers. During this training program, participants studied how the initiative is carried out in Oita Prefecture, birthplace of the producer-led OVOP movement. The participants came from a range of professional backgrounds including members of central and regional government, chambers of commerce and industry, producers, producers' unions and leaders of OVOP initiatives. Through this training program, participants were able to work towards devising concrete and practical development action plans.

In addition to learning about and discussing the theory behind community capacity development*, planning and evaluation, OVOP, and the Onpaku model**, the program also included lectures in Oyama-machi, a homestay experience, and visits to places such as Beppu City, Oita City, and the Oita OVOP International Exchange Promotion Committee.

Program trainee, Mr. Min Bahadur Shrestha (President, Sindhuli Chamber of Commerce and Industry), commented on his experience, "the One Village, One Product Movement began in Nepal in 2006 and I am pleased to have been able to learn so much from this training course. I look forward to putting what I learnt at APU into practice in Nepal."

Commissioned by JICA, APU has been accepting trainees from all over the world since February, 2006. A program involving trainees from Columbia is scheduled for late February 2012.

*Community Capacity Development
This process involves the improvement of local community skills to deal with regional issues at the individual, organizational and social level.

**the Onpaku Model
An abbreviation of "Beppu Hatto Hot Spring Expo", Onpaku is a community-level urban development project initiated in 2001 by Beppu City residents. The project aims to promote regional development centering on hot-springs.