On Saturday, February 11, 2012, the Chinese Ambassador to Japan H. E. CHENG Yonghua visited APU and met with APU President KORENAGA Shun. During his stay the Ambassador also met with a group of Chinese students and enjoyed an inspection of the APU Confucius Institute with Institute Deputy Director, NISHIKAWA Koji.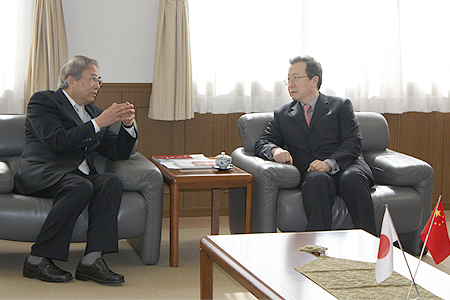 During the meeting, President KORENAGA – former Director of the APU Confucius Institute – introduced some of the features of APU including the unique English-Japanese dual language and educational systems and the opening of the Confucius Institute, "Many students at APU are studying Chinese and our international students from China play a major role in creating an environment where students can use 'real Chinese'. The APU Confucius Institute is the only institute of its kind in Kyushu and we look forward to an even greater range of projects".

In response, Ambassador CHENG praised the multilingual APU campus and the efforts of Chinese students studying here, "I hope that APU can help to forge greater friendships between Japan and China and nurture graduates that can contribute to the development of new ties between our two countries". The cordial meeting took place in Japanese and Chinese.

Following the meeting, Ambassador CHENG met with a group of Chinese students studying at APU. In response to a student's question about how best to promote exchange between Japan and China, the Ambassador encouraged the students to share their experiences of studying in Japan and stressed the importance of local level interaction and exchange between students of both countries.

APU currently hosts 798 international students from China including undergraduate and graduate students. APU students can study Chinese at the Center for Language Education as one of the Asia-Pacific (AP) Languages offered at APU. APU also hosts the only Confucius Institute in Kyushu. The Institute continues to provide a range of opportunities for the local community to study the Chinese language and culture.