On Friday, June 1, 2012, the Chairman of Sato Holdings Corporation, NISHIDA Koichi, and Senior Executive Officer, KUSHIDA Akihiro, visited APU and met with President KORENAGA Shun and a group of APU students.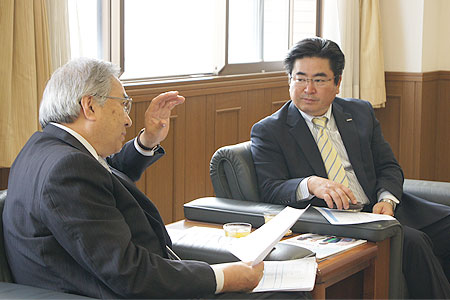 During the meeting, President KORENAGA expressed his gratitude to the late SATO Yu, founder of Sato Holdings, for contributing to the scholarships that continue to help international students study at APU. President KORENAGA then gave a brief introduction of some of the features of APU including student numbers and the APU education system. He also thanked the Sato representatives for recruiting APU graduates and discussed what kind of human resources are sought by Japanese industries looking to expand overseas. Based on his experience of having been posted to Malaysia and Vietnam, Chairman NISHIDA said: "From an overseas factory management and administrative perspective, particularly in the early stages of setting up a new factory, staff members from the local country who have studied in Japan play an enormous role as a bridge that can link our company to the local conditions.

During the discussion, the APU students raised a number of questions relating to the kind of human resources companies are looking to recruit and issues relating to intellectual property management during product development, to which Chairman NISHIDA and Senior Executive Officer KUSHIDA answered in detail. The Sato representatives then recommended APU students to take advantage of the internship opportunities available with Sato Holdings and gave a few words of advice, "Completing a business internship is a very valuable experience to have when it comes to finding a job. However, it is important to remember to approach your internship with a clear understanding of what it is you want to experience and learn".

Chairman NISHIDA continues to support and contribute to the ongoing development and improvement of APU education as a member of the APU Advisory Committee (AC).