On Wednesday, August 1, 2012, the "Project for Promotion of Local Industries in Guatemala" came to a successful end. Beginning on Wednesday, July 18, this two-week program was held at APU for sixteen Guatemalan government administrators. This also marks the end of the three-year program for Guatemalan trainees held at APU under the auspices of the Japan International Cooperation Agency (JICA).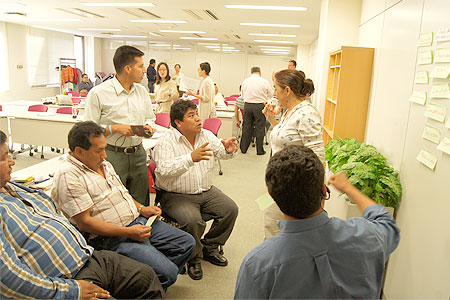 Under the guidance of College of Asia Pacific Studies Professor MIYOSHI Koichi, the trainees studied community capacity development theory, visited local communities in Oita Prefecture, studied the One Village One Product initiative, and also regional development projects from a case study of the "Onpaku Model" – a hot-springs based tourism development initiative. During the second half of the training program, participants discussed how to apply the results of their training to their home communities and also developed action plans.

Vice-Minister at the Guatemalan Ministry of Economy, Lee L. SIGFRIDO, said, "The One Village One Product and Onpaku initiatives are outstanding programs in terms of adapting them to our local conditions in Guatemala, and also in terms of their ability to unearth the needs of our communities and encourage national, local government, and community involvement. Indeed this program has already started to take root in Guatemala. Trainees on this program are now equipped to revisit and validate past initiatives, and many government representatives including local mayors have taken part. I look forward to applying the skills we gained in Japan to assist the further development of my country".

Over 50 Guatemalan government administrators have taken part in this program over the last two years. Based on the Japanese regional development case studies, Onpaku events have been held in Quetzaltenango, Sololá and other Guatemalan provinces and are beginning to show results in the establishment of local brands.

Since the Japan International Cooperation Agency (JICA) commissioned this program at APU in 2006, the university has been conducting training programs on local development for mayors and administrative officials from Africa, Asia, South America, and further afield.