講演・シンポジウム|来学者
Jul 16, 2013
On Tuesday, July 9, 2013, the Minister and Deputy Chief of Mission at the Embassy of Israel in Japan, H.E. Peleg LEWI, visited APU and delivered a special lecture as a guest speaker at APS Associate Professor KIKKAWA Takuro's "Multiculturalism and Society" class.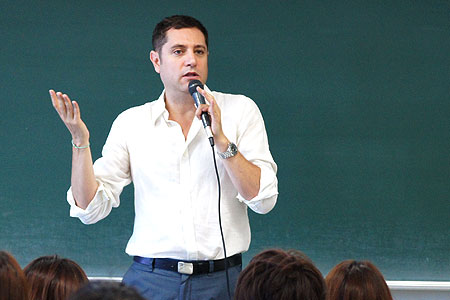 Under the title of "Multicultural Society in Israel: tension between liberal society and religion", Minister LEWI described the history, cultural, religious and political profile of Israel as well the contrasts between the nation's liberal and conservative aspects. "Israel is a land of fusion and confusion; it is difficult to define exactly what an 'Israeli' really is. We are officially a Jewish state and our population is therefore predominantly Jewish, but our citizens have gathered from over 170 countries around the world since our establishment in 1948. This mix is reflected in the food, music and other cultural aspects of Israel – we truly are a cultural melting pot".
Although only established 65 years ago, Israel has developed into a prosperous, modern and high-tech economy. "Like Japan, Israel is poor in natural resources and just like Japan we had to use our heads and our ideas". Minister LEWI then candidly spoke about Israel and the ongoing unrest in Palestine "Israel was not an empty country in 1948 – there were approximately one million Arabs and 650,000 Jews already living there. Successive wars with our neighbors have led to years of unrest and strife for both sides. I hope that we can resolve this conflict through the peace process which, albeit currently stalled, has been going on for the last 20 years". Minister LEWI also encouraged students to gain a better view of Israel and the Middle East and not to depend entirely on the images presented in the mainstream media.
Following his speech, Minister LEWI then took part in an olive tree planting ceremony as a symbol of peace and the growing relationship between APU and Israel. The tree can be found in front of Building B next to the rotary. We look forward to seeing more students from Israel studying at APU in the future.