On Friday, October 18, 2013, five APU international students competed at the '11th Japanese Speech Contest for Foreigners' held at Yoshikan High School, Oita City. All of the APU participants claimed prizes including KIM Dong Hyun (College of Asia Pacific Studies year 2, Republic of Korea) who was awarded the Grand Prize.
Hosted by the Goto Gakuen Trust, this annual contest is held in order to promote international understanding and is open to foreigners who have lived in Japan for less than 5 years. Seventeen exchange students based in Oita Prefecture submitted entries of which fourteen were selected for the contest including five students from APU.
Each of the APU students impressed the judges and audience of Yoshikan High School students with their fluent Japanese skills and were able to show the results of their daily efforts to maser the Japanese language.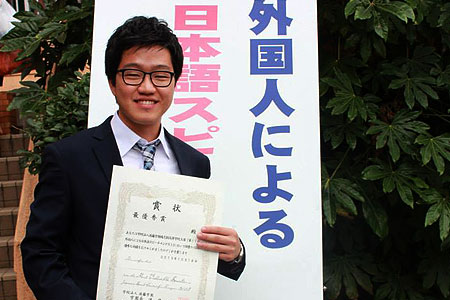 In his winning speech entitled "Leave Asada Mao and Kim Yuna Alone", KIM Dong Hyun used the rivalry between figure skaters ASADA Mao from Japan and KIM Yuna from South Korea to emphasize the importance of exchange and interaction between young people as a solution to fixing the relations between the two nations, which have soured due to historical issues between the two countries. One of the judges said that Mr. KIM spoke brightly but empathetically about the timely issue of Japan-Korea relations, and another said, "your Japanese was so fluent that if I closed my eyes I would think you were Japanese".
Expressing his joy at receiving the award, Mr. KIM said, "I am so happy that I was able to stand in front of hundreds of people and not just get my point across in Japanese, but also have the audience understand and be so responsive. I was nervous, but being able to face this was such a good experience".
In addition to Japanese and English language education, APU also offers study opportunities in six languages of the Asia Pacific region at the Centre for Language Education. Making up almost half of the student body, APU's international students also take advantage of opportunities to study Japanese outside the classroom through extracurricular activities and exchange events with the local community. APU international students' high level of Japanese proficiency continues to be highly regarded by Japanese industries and businesses.
11th Japanese Speech Contest for Foreigners

Grand Prize
KIM Dong Hyun (College of Asia Pacific Studies year 2, Republic of Korea)
Theme: " Leave Asada Mao and Kim Yuna Alone"
3rd Place
ANNISA Istighfari (College of Asia Pacific Studies year 3, Republic of Indonesia)
Theme: "What I learnt through tea ceremony"
The Oita Goudou Shinbun Prize
P.G.I.M. Mohammed Zakir (College of International Management year 3, Democratic Socialist Republic of Sri Lanka)
Theme: "Empathetic hospitality"
The Yomiuri Shinbun Seibu Prize
KHANJAROV Jasurbek (College of International Management year2, Republic of Uzbekistan)
Theme: "Let's talk with our elders"
OBS Oita Broadcasting System Prize
LE Thi Phuong Thanh (College of International Management year 4, Socialist Republic of Viet Nam)Theme: "Know your own value and live a better life