Open Campus programs were held at APU on Monday, July 20, 2015, a national holiday, and Sunday, August 2, 2015. This year, a record high 1,670 people participated over the course of the two days. After APU faculty members introduced the two colleges, there were mock lectures, an international cultural exchange session, and a showcase of APU's successful alumni. The high school students and their parents who joined the programs were able to experience first-hand APU's multicultural campus and diverse curriculum.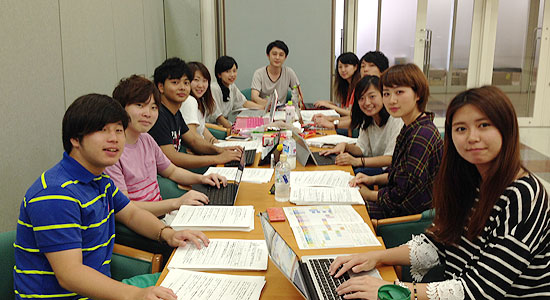 GASS members tally questionnaire results after Open Campus
Open Campus is organized over the course of approximately four months by a 90-member student group known as GASS (Global Admissions Student Staff). GASS works hard each year to ensure the program is not only informative, but also highly enjoyable for all visitors.
For OSADA Yuiko (APS1, Japan), this was her first time joining Open Campus as a GASS member. She reflected on the experience by saying, "I came to one of the Open Campus events at APU when I was in my third year of high school. I was nervous, but the members of GASS were very kind. I remember how attentively they listened to me. I decided to join GASS after I enrolled because I wanted the chance to meet potential students and teach them about the unique appeal of APU."
OI Kohei (APM1, Japan) remarked, "About 40% of the GASS members are international students, making it a very interesting environment to work in. During Open Campus, I think I was able to give some practical advice with regards to the entrance examinations; there are so many students that want to apply to APU, but don't know where to start. Meeting so many people also reminded me of how diverse our values can be."
Meanwhile, SUZUKI Tatsuya (APM3, Japan), the program leader, said, "Since our first meeting in April, we met at least once a week to make sure we had all our bases covered. This year, the goal of GASS was 'to fully communicate the true appeal of APU and leave a lasting impression.' Each member has a different approach and different opinions, so I worked very hard to realize this goal."