On February 18 (Sat) an "APU Meet the Parents Session" was held at the Pacific City Club in Bangkok City, Thailand. Approximately 40 people including parents of APU Thai students, current APU students, APU graduates who are working in Thailand and new comers who have enrolled to study at APU this spring.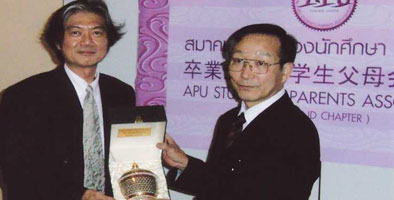 President Maytee and the Advisor to the APU President, Mr. Kohga exchange gifts
The program commenced with a greeting by the Advisor to the APU President, Mr. Kohga, followed by an introduction on student's life by APU graduates, and a Power Point presentation on "Campus Life and Scholarships" by Mr. Fukui, Dean, College of Asia Pacific Studies. Deputy Director, Mr. Kitamoto also gave a presentation on "Internship and Career Support." After the formalities, opinions and questions were sought from the parents. The session covered a wide range of issues.
This event was a good opportunity to deepen the relationship between APU and the parents of APU Thai students and for Thai student to get to know each other better.